UK Yacht Charter – Port of the Week: Lymington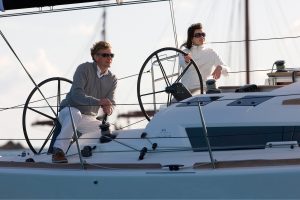 Lymington is an attractive Georgian market town situated at the western end of the Solent. It is just three miles from the Needles Channel and a popular destination whilst doing a UK yacht charter.
It is very well sheltered and accessible. It also offers a convenient departure point for trips across the channel and down to the West Country. Plus it is a great place to explore the New Forest and take advantage of the many activities on offer.
Good for….
A distinctively quaint Georgian Market town.
A great place to explore the New Forest and embark on activities such as cycling, walking, horse riding, fishing or bird watching.
Shopping from picturesque boutiques on the cobbled quay, and a bustling market in the High Street every Saturday.
What to do….
Explore the coastal path on the Solent Way from Keyhaven to Hurst Point.
Swim in the outdoor pool next to Lymington Yacht Haven.
Visit the St. Barbe Museum and learn about the history of Lymington.
Fish along the sea wall or hire a bike and cycle in the surrounding New Forest
Play tennis on one of the courts at Woolside Gardens
Enjoy a meal at one of the numerous restaurants and hostelries in the area, all within easy walking distance from your yacht.
Berthing options and facilities…
There are two main marinas: Lymington Yacht Haven and Lymington Marina, the Town Quay is only two minutes walk from the town centre.
The Dan Brown Pontoon is 650 feet long and offers walk ashore berthing adjacent to the Sailing club and Yacht club. From here it is a 10 minute walk into the town centre.
Lymington Yacht Haven – 01590 677071.
Getting there…
The entrance into Lymington harbour is clearly marked and accessible at all states of the tide. If you are in any doubt simply follow the ferry! Follow the port and starboard navigation posts, keeping a look out and allowing plenty of room, for the regular ferries. The channel narrows after the ferry terminal with a maintained depth of 1.7m up to the Town Quay.