Chartering A Yacht ??
Chartering a Yacht ??
The Different types of yacht charter available
There are a number of different options open to you if you are looking into chartering a yacht.
Bareboat Yacht Charter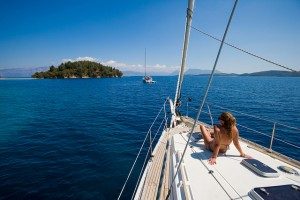 Bareboat Yacht Charters are where you take full responsibility for the yacht and the crew onboard, with the freedom to explore the sailing area as you wish. Charter companies will naturally expect a level of experience suitable for the size of yacht and the expected conditions for your chosen sailing area. Depending on the sailing area they will either ask for evidence by way of a sailing CV or for certain parts of the world you may be required to hold a formal qualification such as an ICC.
Most charter companies operate in a number of different sailing areas with various difficulty levels. Whilst they will help you choose the most suitable area for your experience chartering a yacht in an area which is well outside of your comfort zone is likely to end in tears. Know your own limits and don't forget the limits of the people you are sailing with !!!
Skippered Yacht Charter
Employ the services of a skipper. This is a great way if you are new to sailing, exploring an unfamiliar area or just simply want to enjoy chartering a yacht without any of the associated responsibility or worry.
A skippered yacht charter is popular in the UK for day charters which may be being used for corporate hospitality or entertainment as it allows the host to focus on his clients and leave the sailing aspects to the skipper.
If you are on holiday in a new area then use a skipper to show you some of the best spots. Remember you don't have to have the skipper onboard for the whole time, may be just for a few days at the beginning.
Skippered yacht charters are most common on some of the larger yachts and power boats where restrictions on insurance do not allow the vessel to be chartered on a bareboat basis.
Flotilla Sailing Holidays
Regardless whether you are new to sailing or more experienced these are a great holiday for a number of different reasons :-
– There is a natural social aspect of a Flotilla Sailing Holiday that people enjoy with the lead boat often organising events throughout your holiday.
– The lead boat is on hand to provide you with information about the sailing area, the best places to stop and eat as well as safety and navigation information.
– They also are nearby in case of any emergency.
– There is plenty of flexibility for you to also head of on your own and enjoy some independence so you are not stuck sailing around in a pack !!
Fully Crewed Yacht Charters
Aimed at the luxury end of the charter market, fully crewed yacht charters are invariably on the larger yachts available for charter. As the name suggest the yacht comes with a skipper and crew plus often a hostess and or chef on hand to cater for all your needs. You can get involved in the sailing aspects as much or as little as you like and don't be put off by the thought of sharing your holiday with a skipper and crew. These people are highly professional and very experienced when it comes to managing their guests needs and expectations.
More information can be found on the RYA's website and the BMF Leisure Boating pages
Or alternatively CONTACT US and we will be more than happy to help you.
Contact Us (Click Here)