UK Yacht Charter – Port of the Week: Poole Harbour
About…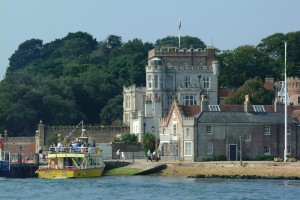 Poole Harbour is the second largest natural harbour in the world after Sydney Harbour, Australia! Poole Harbour is a brilliant place to visit on any UK yacht charter, whether you are after a lively night on the quay or a quiet night anchored in the stunning natural harbour.
Things to do….
To west side of the harbour you will find Studland Bay and the seaside town of Swanage with the famous "Old Harry Rocks" Very pretty and undeveloped with lovely beaches fringed by sand dunes and the tiny village of Studland.
To the east side of the harbour you can gaze at the multi-million pound properties that line the long beach from the Sandbanks all the way to Bournemouth
Take a trip to the National Trust island of Brownsea…a brilliant day out for the family admiring the huge selection of wildlife, the vast bird sanctuary, spotting red squirrels and some great tree climbing!
There are peaceful anchorages behind Brownsea Island where you can admire the salt marshes and the forested islands of the Purbecks.
Poole Quay is the hub of the town and the front is lined with pubs, bars, restaurants and shops, each building has a distinct character, from the 18th century mill to smart apartments. During the summer many events take place such as live concerts and music, weekly firework displays, street art festivals, plus many more family friendly activities.
Getting there…
Poole harbour is accessible at all states of the tide and provides plenty of shelter. The entrance is only tricky in very strong S and SE winds.
You need to watch out for the chain ferry that runs across the entrance to the harbour as well as a regular cross channel ferry.
Large areas of the harbour are quite shallow and you are allowed to anchor anywhere outside of the main channel as long as you are clear of any local moorings.
Berthing Options & Facilities
Poole Quay Boat Haven – this fully serviced & modern marina is located at the eastern end of the quayside with all the cafe's, bars and restaurants close to hand and all within walking distance.
There are other marina's within Poole Harbour but not all accept visitors so it is best to call up in advance