Charter a Yacht in the UK
Planning to charter a yacht in the UK? Before you book, what do you need to consider?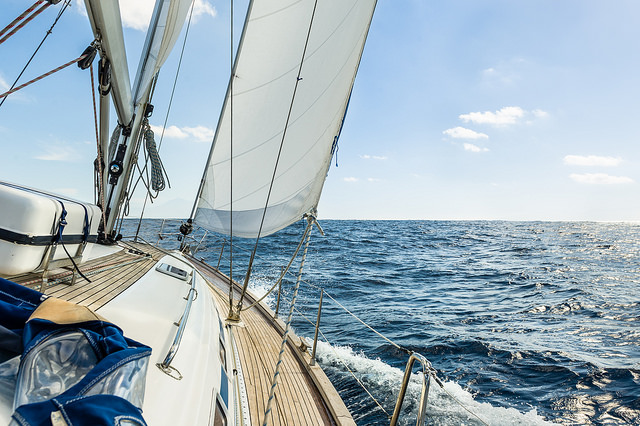 To ensure a successful sailing yacht charter in the UK it is worth doing some background research and planning. Each company has a different approach and sailing in the UK has different and arguably more challenging aspects to sailing than the Mediterranean and many other parts of the world. In the UK, weather conditions and tides can easily catch you out and there are also specific rules and legislation that UK charter companies have to comply with.
So whether you are chartering for the first time or have been chartering for a number of years, there may be unfamiliar elements which will impact your yacht hire in the UK:
Yacht Charter Options:
There are ways to get anyone out on the water, regardless of age or experience.
Bareboat Charter: This is aimed at people who already know how to sail. It offers you the freedom and flexibility to sail where and when you want.
Skippered Yacht Charter: Go out sailing with an experienced skipper. You may already know how to sail and just lack confidence. You may be new to the sailing area and want someone to show you the ropes. Alternatively, you may just not want the pressure of taking charge and want to focus on enjoying the day and relaxing with your friends or guests.
If you are looking to charter overnight and would like the boat to yourselves then we can always book accommodation ashore for the skipper.
Corporate Hospitality Sailing Days: Sailing is a great way to entertain your clients or motivate your work team. There are numerous packages on offer from team building days to full hospitality packages. Full details of our hospitality events.
Individual Places or Group Bookings: Come down on your own or organise a charter with a group of friends or work colleagues. Day & Half Day Charters are available.
There is a range of Mile Building and Activity Weekends to choose from.
Sailing Courses: Book a place on a sailing course and brush up on your sailing skills. There are a number of RYA courses to embark on aimed at anyone from a complete beginner to those with more experience.
Choice Of Sailing Area
The most popular sailing areas in the UK are
West Country & Channel Islands
Scotland
East Coast
Your choice of sailing area will depend greatly on how long you are looking to charter for as well as what type of holiday or short break you are after.
Corporate Hospitality
Adventure Breaks
Hire a yacht in the Solent and enjoy a short weekend break or simply just a day. The Solent offers a great array of ports all widely accessible in a well protected area of water. There are many ports to choose from providing a range of options so you do not have to repeat the same itinerary time and time again.
For an in-depth look at where you can go in the Solent visit our Sailing Area section.
All of the marina's around the Solent have improved dramatically over recent years. You will find them extremely well kept with excellent facilities and helpful staff on hand to assist you. Within a short walk there are plenty of restaurants and pubs to choose from in any of the places you will visit. There are quiet and secluded spots as well as thriving vibrant towns with plenty to see and do. So there are numerous options and places to visit to suit the type of yacht charter you are looking for.
If you are looking to extend your charter for a few days or even a week or two. Then you can explore outside of the Solent towards Poole, Weymouth and further afield to the West Country. If you are feeling really adventurous then there are options to cross the English Channel allowing you to explore France and The Channel Islands.
There are plenty of other places to charter around UK waters, all appealing in their own way. Here are some key factors to consider…
The time it will take you to travel to the base
Predominant wind and weather conditions
The proximity of each harbour and sailing time between
Options in case of bad weather
Choices of marina's & anchorages
Preference to eat on board or ashore
Choice Of Yacht
Choosing the size and type of yacht to suit your requirements is probably the next most important thing.
Naturally, this will be based on the number of people in your party, your budget as well as your experience and the crew you are sailing with.
If you are looking to hire a yacht in an area which offers low wind and relatively easy waters to navigate, such as the Mediterranean, then you could justify being tempted into a larger yacht. However, in the tidal waters of the Solent you may find something around 38 – 40 feet easier to handle.
Whilst budget is a serious consideration it would be foolish to try and fit 8 people onto a 32-foot yacht for a weekend let alone a longer charter !! Think carefully about the makeup of your group, the type of sailing you will be doing as well as the duration of your charter before choosing what type of yacht to hire.
Look at the layout of the yacht and the equipment it offers onboard and decide what is important to you.
Size Of Cabins
Heating
Charter Plotters / AIS / Radar
Number Of Heads
Age of yacht
Most yachts sleep 8 people and the typical configuration of accommodation is 3 double cabins and a double saloon conversion. If you are looking at hiring a yacht in the UK plan for bad weather, and with this in mind give yourself some space down below. If your budget allows it's always better to have less than the maximum number of people staying on board.
Charter regulations are such that all boats are restricted to carrying the number of people the yacht can sleep for any charter over 24 hrs. For day charters or charters less than 24 hours, then some boats are licensed to carry more people. All yachts coded by the MCA under the Small Commercial Vessel regulations are restricted to carrying a maximum of 12 guests plus in some cases the skipper and crew if on a skippered charter.
Sailing Experience
What qualifications do you need to charter a yacht in the Solent?
Most charter companies operating in the Solent look for a minimum of Day Skipper standard with one other competent crew member. However this is only a guide, if you do not hold a formal qualification then evidence of experience to the equivalent standard should suffice. Ultimately there is no legal requirement for charter companies to insist on a formal qualification, more often it is the insurance companies that stipulate the level of experience required to charter a boat. This is why you will find it varies from one company to another and indeed from one yacht to another.
If you are looking to sail outside of the Solent then you will be expected to be of a Coastal Skipper standard or again possess suitable experience.
Most charter yachts are between 36 – 40 feet but if you are looking to charter something larger then you will be expected to demonstrate suitable experience in a yacht of that size.
Lastly if you are planning on taking part in a race or other sailing event then you will need to demonstrate a suitable level of racing experience.
What Is / Isn't Included In The Price
Do check out what is and isn't included in the price of your yacht charter. Quite often you will see a headlining grabbing price being advertised but check that you are comparing like with like before booking.
Fuel – Most charter companies hold a policy of refuelling the tanks after use
End of charter cleaning – You will be expected to leave the yacht in the same condition as you found it. However, it is often possible to pay a cleaning charge if you simply want to step off the yacht at the end of your charter.
Waterproofs – Available to hire
Spinnaker / Cruising Chute – Available to Hire
Outboard – Available to Hire
What Equipment Is On Board
There is a minimum standard of safety equipment that all charter yachts in the UK must carry. This is all laid out in the MCA Code of Practice for Small Commercial Vessels or MGN 280. There is a duty for any charter company to maintain and service the equipment on board at regular intervals and the yachts are also routinely inspected by a certified MCA approved surveyor.
The key points are
Fire extinguishing equipment serviced annually.
Gas system inspected annually.
Time-sensitive equipment such as Flares, First Aid Kits all replaced as per their expiry dates.
Lifejackets, Liferafts, Danbuoy's and other serviceable safety equipment serviced as per manufacturers recommendations.
To keep a vessel within code, the owner or managing agent will inspect the yacht annually and send off a declaration to the MCA / Coding Authority. On the vessels 3rd anniversary the vessel needs to be inspected in the water by a surveyor and then on the 5th year the coding is renewed and the vessel inspected both in and out of the water.
Yachts are equipped for the maximum number of people permissible on board.
Key equipment that you will expect to find onboard:
Personal Safety Equipment; Lifejackets and Harness Lines
MOB Safety Equipment; Horseshoe lifebuoys with lights, throwing line and danbuoy
Liferaft
Flares, Fire Extinguishers, First Aid Kit
Navigation Equipment; Charts, Almanac, Log Book, Pilot Guides, Bretton Plotter, Parallel Rules, Handbearing Compass, Binoculars
Electrical Equipment; GPS Chart Plotter, VHF fixed & Handheld
Galley Equipment and Cooking Utensils
Sails; Main, Genoa & Storm Jib
Dinghy
Boat Hook, Bosuns Chair, Tool Kit, Spares, Search Light, Torches, Motoring Cone, Anchor Ball, Fog Horn, Winch Handles
Other equipment you may also find onboard or be able to hire:
Heating
Radar
Cruising Chutes / Spinnakers
Waterproofs
Generally, you will expect to find pillows, pillowcases, T Towels and some cleaning equipment on board but most charter companies will not provide bedding or sleeping bags.
The Booking Process
Choose the yacht you wish to charter
Contact the charter company to check availability
Place a 20% deposit
Complete a Booking Form / Charter Agreement and Sailing Experience Form
Depending on how far out you make your booking a 20 % deposit is enough to secure your charter, within 6 weeks of your charter then full payment is normally required.
Before you arrive for your charter you will need to
Pay in full
Complete a Crew List
Pay a security deposit
Charter Administration Explained
– Charter Agreement
This is the main agreement between you and the charter company. Buried within are the company's Terms and Conditions. Read it carefully as it covers a whole range of matters which are important especially if things do not go according to plan.
– Sailing CV
It helps if you have a formal record of your sailing miles recorded in a RYA Log Book so you can actively demonstrate your experience. Failing this then a chronological record of your sailing background will normally suffice.
The most important thing here is to demonstrate experience in the type of sailing area you want to charter in and experience of sailing the same size yacht.
The charter company will want to sight any certificates you hold and also see your passport or form of ID.
– Crew and NOK forms
It is essential that the charter company knows who is onboard and who to contact in an emergency.
– Refundable Security Deposit
For bareboat charters, you will be expected to put down some form of deposit which will be returned on safe return of the charter companies yacht. This represents the value of the excess on the yachts insurance policy and is the maximum extent of your liability in the normal course of events.
In some circumstances, a deposit will be held on skipper charters normally if the skipper is not staying onboard overnight.
The amount can vary from one charter company to another between £700 and £1500 depending on the size of the yacht, often more if you are racing.
Some will just record your credit card details and others will deduct the amount from your credit card. A few companies will offer a damage collision waiver payment which is a non-refundable one-off fee to cover against any damage or losses.
Assuming there are no damages or less then you can expect your deposit to be returned within 5 – 7 days once it is clear that there have been no third party instances.
Enquire