Dufour Interior Design
A look at what goes into the interior design of a modern Dufour Yacht…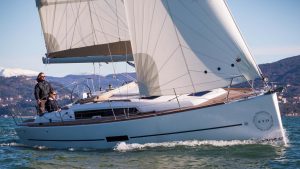 Sailing is only half of the story for most modern owners and just as important is the quality of onboard living.
So at Dufour Yachts the designers strive to create beautiful yet practical interiors to enhance your onboard living experience.
Throughout the interior you will discover endless attentional to detail and numerous features that make you feel at home.
Modern functional design
Modular interiors to allow the space to be adapted
Maximum optimisation of space
Generous natural light
Plentiful stowage
2, 3 & 4 cabin layouts
Linear, traditional L shaped and front galleys
Maori and Oak Interior wood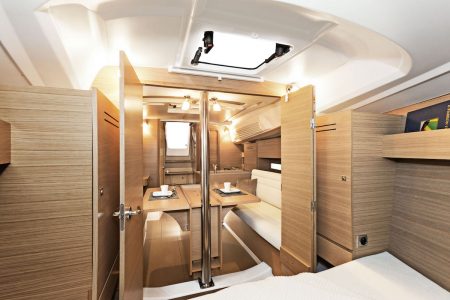 For each model there is are a variety of cabin, galley and heads configurations as well as options to choose your own interior wood, fabric and upholstery.
With the predominant material down below being wood it is important that both the raw materials are chosen carefully and the craftsman employed to build the interior are of the highest standard.
Building a yacht out of solid wood ceased long ago and like most modern boatbuilders Dufour build their interior furniture using a high quality marine grade plywood covered with a visually appealing real wood veneer.
The plywood is carefully chosen and specifically of marine grade quality which guarantees high grade waterproof glue and minimal gaps between the individual layers for extra strength and resistance to the effects of moisture. Each panel is cut precisely using CNC machinery, mortice joints are tightly fit and secured with fasteners and the end grains are sealed with matching real wood veneer.
What separates Du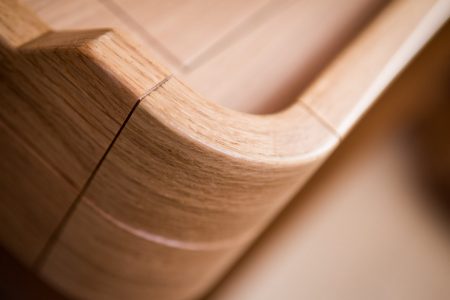 four is that unlike a lot of boat builders who may use plastic laminate panels or processed wood products, Dufour insist on using carefully selected panels finished in a real wood veneer.
Whilst clearly using real wood creates more challenges given the natural variations in grain pattern the benefits in terms of the warmth and character that it creates is second to none. Real wood is also always far easy to maintain and repair if needed.
Aside of the plywood Dufour still chooses to use large amounts of solid wood for all the door frames, fiddles and corners. In addition and unlike other builders who opt to cut costs by squaring off door frames and avoiding complex curves, Dufour believes that the only way to create an elegant look is to use large amounts of solid wood shaped to create the desire effect.
The standard wood is called Moabi this is a more traditional dark wood, to offset the darker wood colour other aspects of the interior such as the panelling and counter tops are by contrast much lighter and with the generous deck windows it helps to keep the moabi interior light and bright.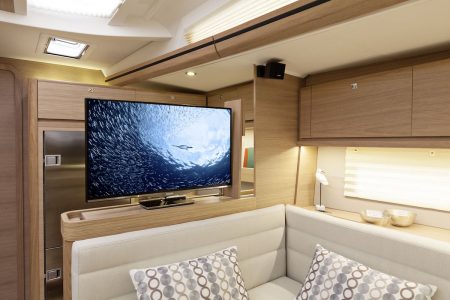 Over the years lighter interiors have become far more popular and now 70% of current production is carried out using the lighter Canadian Oak wood. The Oak interior creates a very light and modern interior.
Other aspects about the interior that you will notice are.
High quality stainless steel fittings are used throughout.
Soft closing drawers
Gas struts on all cupboard doors
Adjustable chart table seats for easy use at sea
Plentiful handholds