Dufour Yachts Past & Present – Download a Brief History
In 1957 a mechanical engineer named Michel Dufour, became convinced that composite technologies and materials would transform the marine industry.
He envisioned that extraordinary adventures would be achievable by ordinary people and founded Dufour Yachts in La Rochelle, France, where it stands today as one of the worlds largest sailboat builders.
In 1964 he built his first boat, by 1971 production had evolved to 300 units a year out of the facility just outside of La Rochelle. Dufour Yachts had been established.
The 70's & 80's saw continued growth and during the 1990's the "Classic Range" was born which revolutionised the industry in terms of comfort and design.
Todays Grand Large & Exclusive range embrace all the history and passion of Dufour Yachts and demonstrate their tireless efforts to lead the way in yacht production and design.
Design Signature and Dufour Yacht's DNA
A yacht must meet many functions, they have to be safe with logical interaction of all controls. They should be beautiful whilst practical and easy to handle. Finally they must have a strong sailing performance with a comfortable and well equipped interior.
Dufour Yachts have evolved over the years but they have kept their strong aesthetics with stretched lines, simple, clean shapes that make them immediately recognisable.
Elegant and modern aesthetics
Space, security and good circulation around the deck
Easy handling with full control
Smart unique and functional features
Contemporary Interiors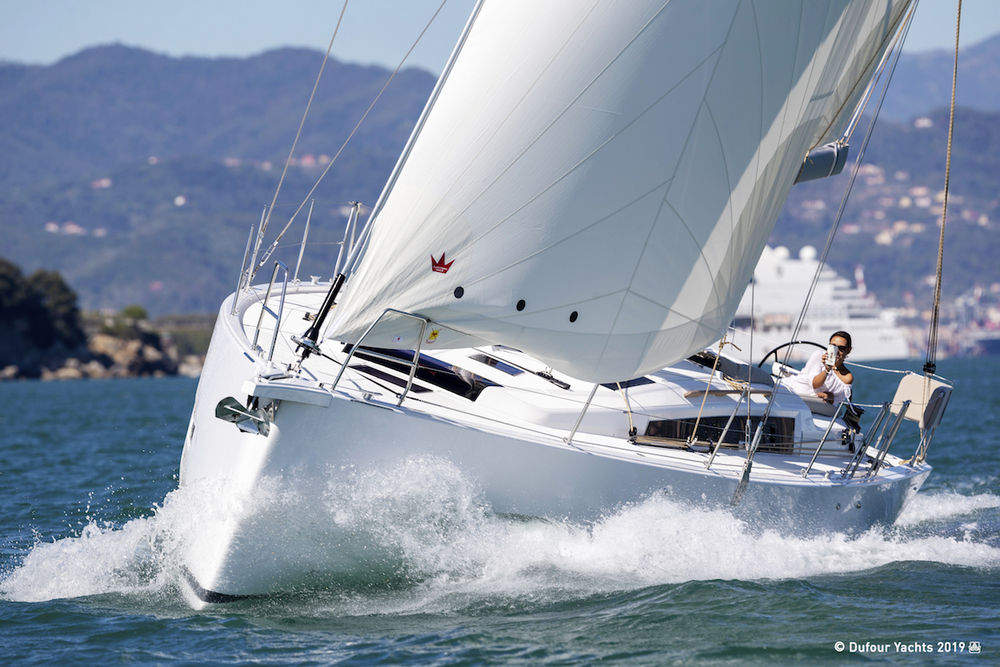 Construction Techniques
Hull
Every hull is moulded in a single piece using a method called contact moulding. Two-piece hull moulds are meticulously cleaned and prepared before the gel coat is sprayed onto the waxed surface.
Layers of fibreglass sheets are then applied with predetermined and specific quantities of resin. Each layer is rolled out to expel any air bubbles and the layers are built up in various thicknesses depending on the area and strength required.
The final composite hull is released from the split mould, the key benefit of which is that it allows for a pronounced flange onto which the deck structure is bonded. This flange creates additional integrity and strength for the hull to deck joint.
Structural Grid
Laid inside the hull is a structural grid or counter mould. This enhances the structural characteristics absorbing and distributing the loads from the keel and rig. This grid also allows for a consistent position of the bulkheads and furniture and a clean internal finish for easy maintenance and cleaning.
Decks
By contrast, the decks are made by a process called resin injection.
Layers of dry laminate are sandwiched between two moulds before resin is pumped in at high pressure to saturate the dry fibres. This ensures a totally equal distribution of resin to all areas of the deck.
Once cured this process creates lighter yet stronger structure which is free from imperfections and offers increased head room.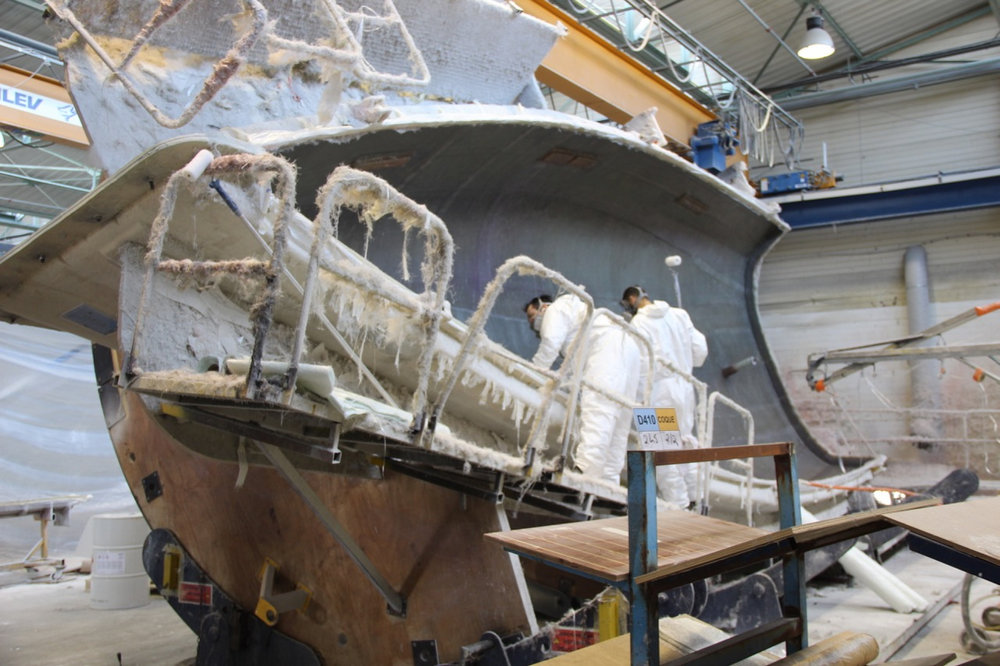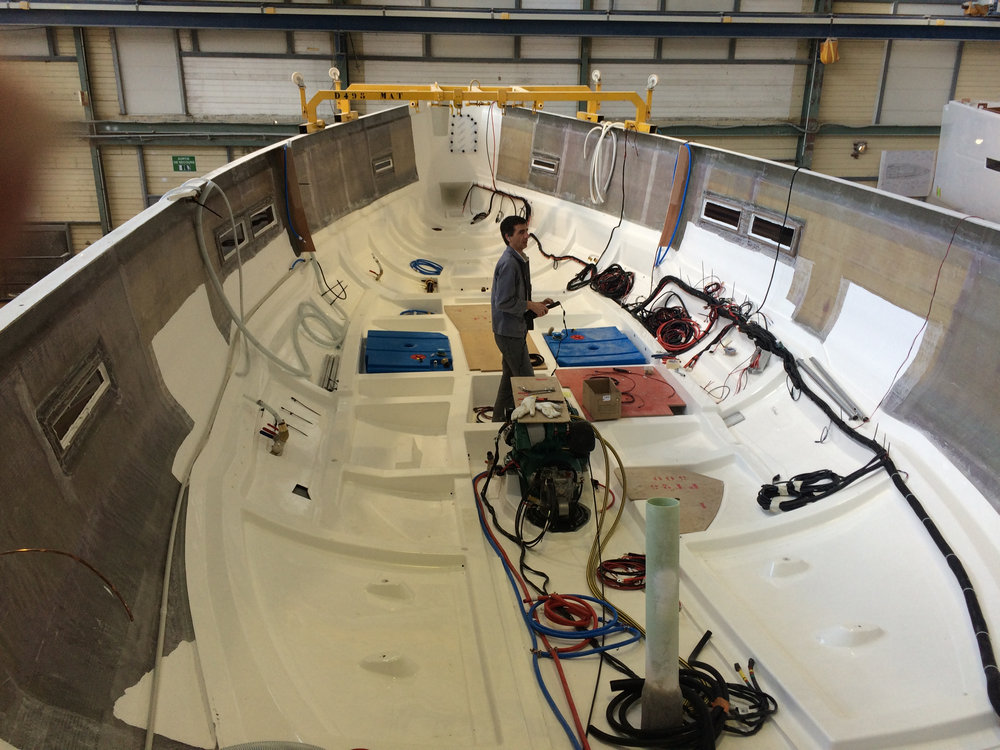 Materials
The hull is made up using a single skin layup and a PVC cored stiffener.
The rudder is a semi-elliptical shape with a thick structure to create a perfect grip, feel and balance. The shaft is stainless steel with a stainless steel frame encased in epoxy foa,.
Self-aligning rudder bearings are supplied from JP3 systems.
All the interior furniture is built in a dedicated factory in La Rochelle cut precisely by CNC machines.
Bulkheads are laminated directly onto the hull and the furniture is carefully assembled, fastened and bonded together.
The marine-grade plywood panels come in thicknesses between 12 and 18mm.
The interior side panels are made from Alpi engineered wood, perfectly replicating the patterns and grain of natural wood.
Alpi wood offers a hard finish resistance to humidity and UV
Then all around the boat, you will notice the generous use of solid wood frames and trims.
The varnish is used without any tint for fast and easy repair.
Floorboards are engineered laminate to create a strong outer coating for great protection from abrasion and scratching.
The galley and heads surfaces are all made from Corian which is a solid non-porous material that is highly durable, easy to clean and aesthetically pleasing.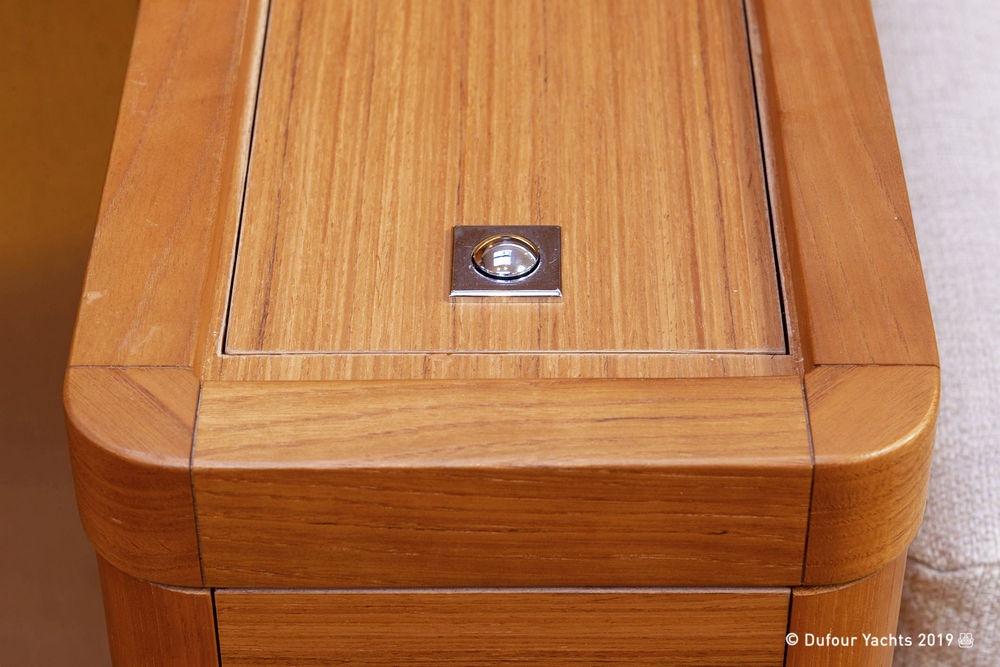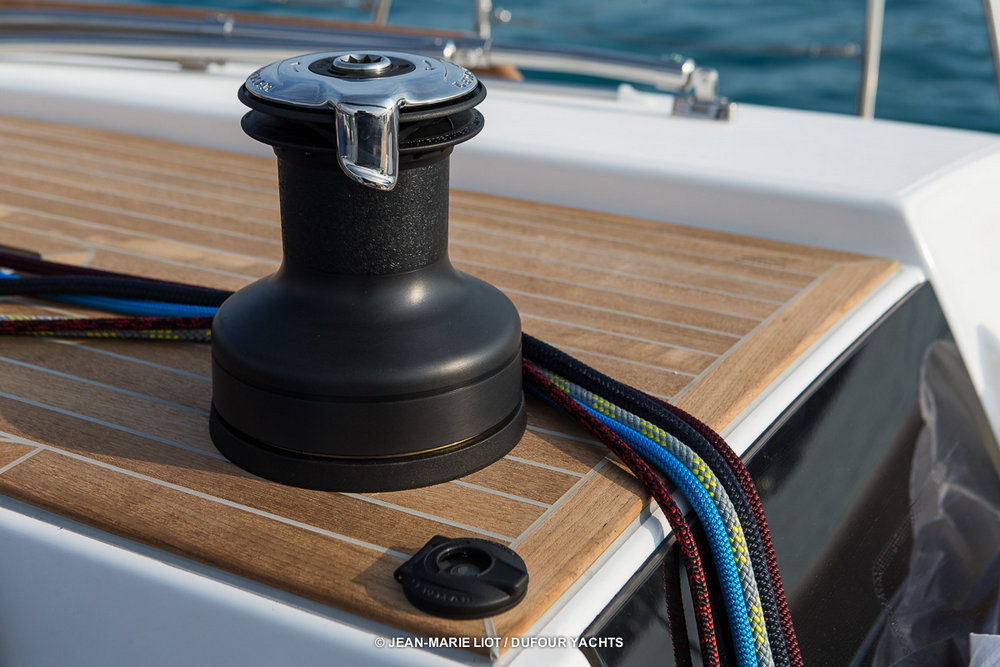 Sailing Performance and Handling
Performance hulls developed for safe offshore sailing
Stable hull shape with distinct chines to reduce heel
High aspect rig design and fully battened mainsails
Inclined boom for easy mainsail stowage and handling
Traditional layout with halyard winches on coachroof
German mainsheet system for easy control of the mainsail
Self-tacking jib traveler for easy sailing
Performance style steering wheels and pods
Optional overlapping headsails with adjustable Genoa cars
Fixed bowsprits for mounting downwind sails
Balanced rudders that grip well even in rough conditions
Torpedo keel bulbs improve righting moment and reduce drag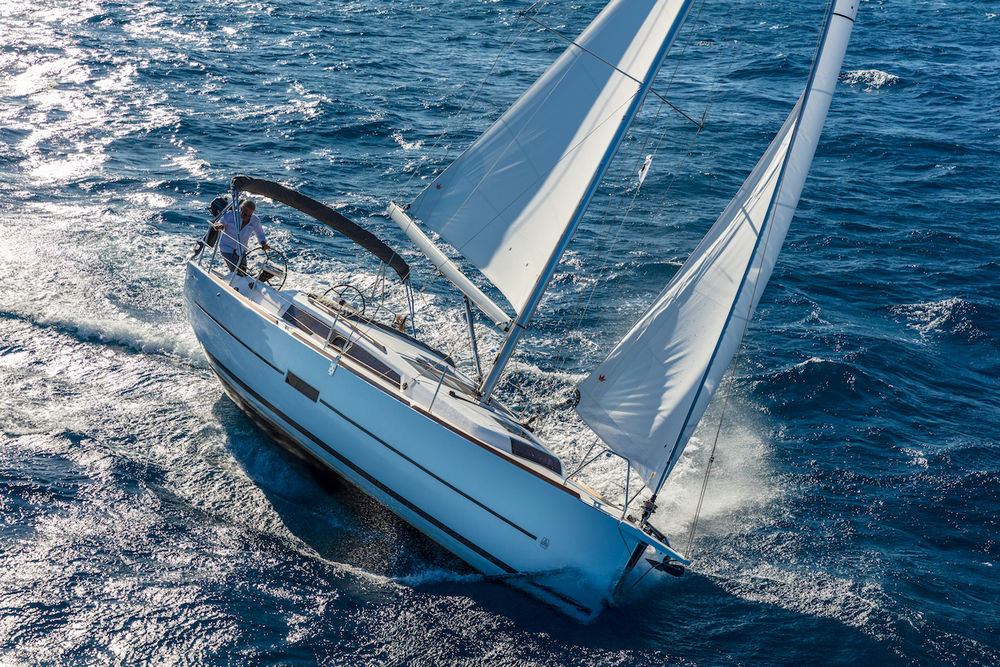 Interior Features
Luminous and welcoming saloons
Forward Galley – 430 and up
Spacious and elegant master cabins
Numerous cabin layout options
Solid wood finishing
Quality Fabrics
Corian countertops in galley and heads
Large Fridge and Freezer capacities
Optimised storage
Large wine cellars
Digital electronic control panels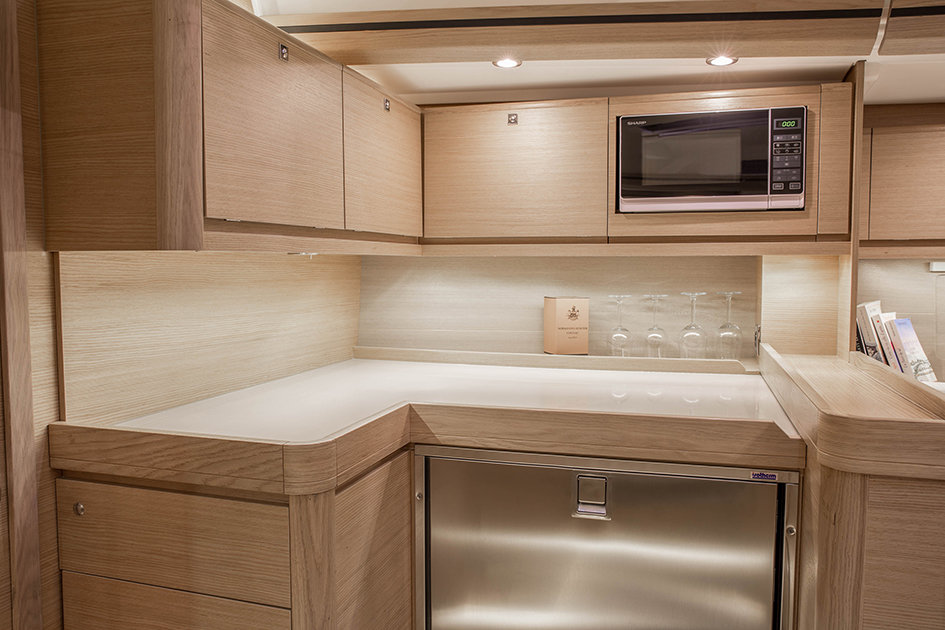 Exterior Features
Large cockpit areas with long sunbathing seats
Wide side decks for easy & safe circulation
Closed aft cockpits for maximum seating and secure sailing
Large easy to use bathing platforms
Functional cockpit tables
Integrated BBQ and sink on models from 360 up
Helmsman backrest cushions for extra comfort at the wheel
Telescopic tender davits on some models
Premium bathing ladders with teak rungs
Deck and cockpit courtesy lighting on certain models
Premier cockpit and deck cushions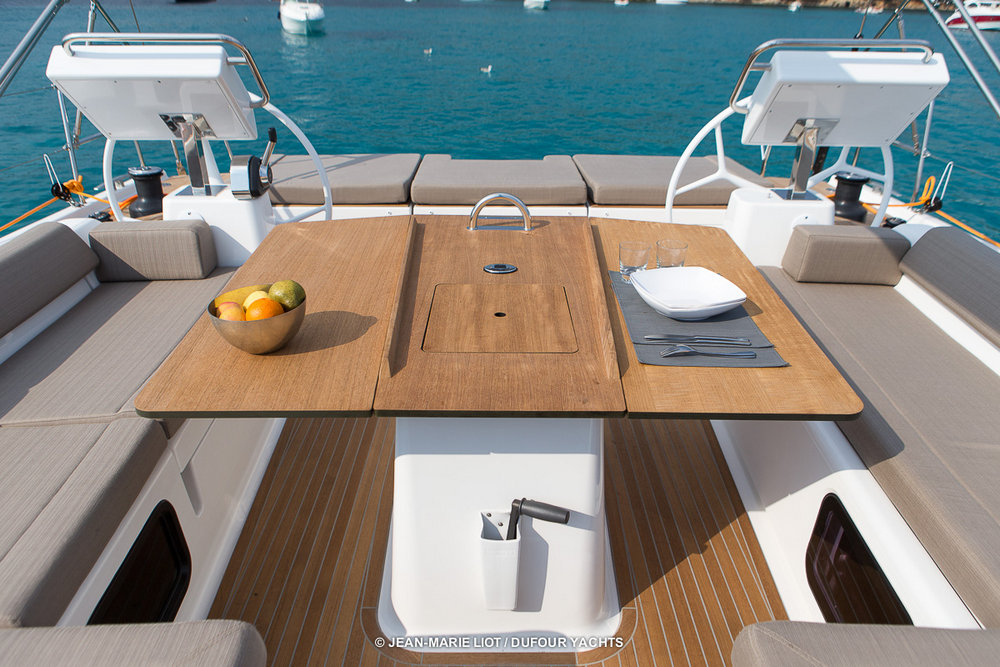 Wide Range of Options and Extra's
Performance Sail Packages
Self Tacking or overlapping headsails
Choice of engine options
Standard and shallow keel
3 Interior Woodwork Options
Natural Teak or Permateek Options
Interior fabric options
Electronics Packs
Generator and Air conditioning
Bow and Stern Thrusters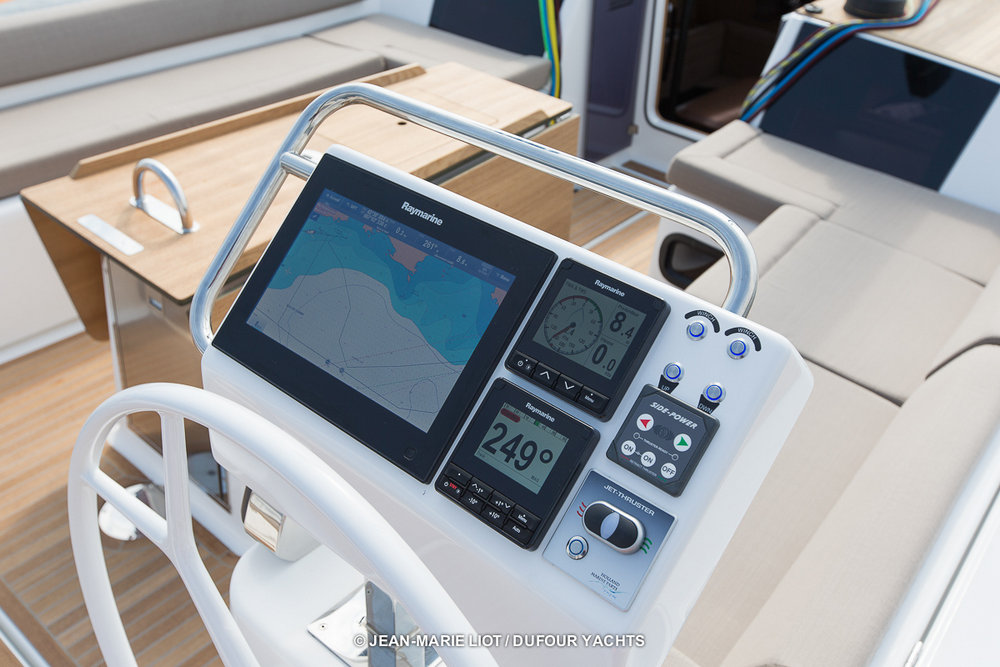 Simple, Effortless Sailing
Dufour Yachts have always been at the forefront of modern production techniques. Continually evolving over the years, they are now established as one of the worlds leading boat builders with a range of yachts from 30 feet to 63 feet.
Benefitting from a long-established relationship with designer Umberto Felci, Dufour Yachts have created a modern range of yachts that lead the world in terms of performance, styling, quality, space and practicality.
Today Dufour operate a dynamic and successful shipyard producing over 400 units a year in its 18,000m2 facility.
Discover more about Dufour and what makes todays range of yachts so exceptional. Universal Yachting are the UK Agents for Dufour Yachts.