Yacht Winterisation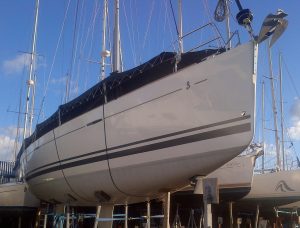 Yacht Winterisation – A Guide
Yachts left uncared for over the winter will quickly deteriorate causing all manner of issues when you come to go sailing again in the Spring.
Don't let your yacht suffer from neglect over the winter months.
Problems that can occur over the winter
Sails & Covers getting damp and going green
Halyards and ropes going green
Freezing pipes and damage to water and toilet systems
Damage to engine from frost
Mildew and damp attacking interior cushions and furnishings
Whether you are lifting your boat out of the water or leaving her in over the winter. A little preparation will undoubtedly save you time and money in the long run.
Step by Step Guide on how to winterise a yacht.
1. Sails & Covers
Sails and covers can quickly turn green if they are left outside in the damp.If you do nothing else then take them off on a dry day having left them to air in the breeze for a few hours and stow them below. Never store your sails or covers away wet !!If budget allows then have them checked over by a sailmaker and then professionally laundered. This is the best way to ensure that they are in perfect condition for the next season.
2. Mast & Standing Rigging
This is now the time to have a good check over your mast. If you are happy and confident with heights then up you go !! However a professional eye will probably spot any issues better than an un trained one.
Remove any mast head instruments, there is little point wearing out the bearings.
Check all terminal fittings for corrosion and damage
Check wire rigging for loose strands & signs of fatigue
Check halyard sheaves for any damage.
If you have a furling headsail then take the opportunity to clean out the swivel bearings, we find hot soapy water is the best way to remove any built up salt and grime.
Protect your head foil and with a luff protector, this keeps it under tension and stops it rattling around in the breeze. The same goes for furling mainsails foils.
3. Ropes and Running Rigging
Leaving ropes lying on wet decks is a sure way for them to turn green. Once this happens it is very difficult to get rid of the staining.
Best options here..
Mouse them out of your mast using a strong mousing line. Make sure that you mark the halyards so you know where to refit them in the spring!!
Advantages are…
Rope stored away dry will prevent them going green
Prevents chaffing during the winter
You can give them a close inspection for any damage
Give them a new lease of life by washing out all the salt
If you don't want to mouse them out then at the very least you should lift all your halyards off the deck by pulling them out of the jammers and stow them at the mast in neat coils so that they are able to air and dry out on sunny days.
4. On Deck Items
Remove anything that you can and stow it below, safety gear, jackstays, horseshoe life buoys etc etc.Don't forget to empty your cockpit lockers of anything that can deteriorate in the damp.
5. Serviceable Items
Send away any items that require servicing such as life jackets, dan buoys, life rafts, rescue modules.Also don't forget to remove batteries from certain items such as MOB lights etc
Certain items have time expiry dates, such as Flares, Lifejacket lights, Sealed MOB Lights & First Aid Kits. Check these and replace as required.
6. Exterior wash
Finally now that everything has been put away, give your decks a good wash down. Clean out any blocks and jammers and try to remove any salt and dirt deposits that have built up.If you have a jet wash by all means use this on any non slip GRP but we warned a powerful jet wash can cause untold damage to seals and trim around the boat. A jet wash should never be used on teak in any circumstance !!
Now to turn our attention to down below !!
1. Cleaning
Go through the boat and give everything a good deep clean. Lift up the bilge boards and remove cushions and bunk boards. The last thing you want is to have anything festering there all winter.Use an anti mould cleaner on the headlining and any other surface to prevent a building up of mildew. Especially around the fridge, don't forget to leave the fridge open to air.
Remove any perishable food items and anything that may not last the winter.
2. Toilet
Give the whole compartment a good clean. If you have holding tanks, make sure that they are emptied and flushed through with a suitable tank cleaner. Wash the toilets out with fresh water and put some toilet cleaner down and around the bowl.
If you fear extreme freezing conditions then flush through some non toxic antifreeze such as freeze ban.
3. Cushions and soft furnishings
Take down any curtains and give them a wash, do the same with your cushion covers. Then leave your bunk cushions propped up to allow them to aerate.
4. Heaters and Dehumidifiers
If you have the luxury of shore power then setting up a couple of heaters on a low setting and running a dehumidifier will keep the interior of your boat dry and warm.This will prevent any condensation building up and save any chance of frost damage in the event of a cold spell.Leave doors and cupboards open so that air can circulate.If you do this then there is no reason not to leave all the boats equipment down below, its saves taking it all home and will be as warm and dry as any garage or loft, less chance of mice too !!
5. Engine
If you are leaving your boat in the water where you can run it up periodically then there is a good case to leave your engine in commission. The natural insulating qualities of the water as well as any heaters you have running will help keep the ambient temperature above freezing.At some point you will need to service your engine. This is best done before the winter, old oil with its tiny metal particles can cause damage to the internal workings of your engine. It is best to leave the engine laid up over the winter with fresh clean oil.If your boat is ashore then winterising your engine is certainly sensible and prudent.Top up your diesel tanks to prevent condensation and the chance of diesel bug contaminating your fuel system.
6. Batteries
Check your batteries using a load test meter, grease the terminals and check that they are left on trickle charge.
7. Fresh water system
Empty your water tanks and drain down the entire fresh water system
Don't forget your hot water tank, also disconnect the 240v supply to the heating element to prevent it burning out.
Run a non toxic antifreeze solution through the fresh water system such as "Freezban". This will stop any residual water lying in pumps, pipes or taps from freezing and damaging these items.
Leave your taps open and don't forget to remove your transom shower tap head if you have one.