Winter Yacht Maintenance
Winter Yacht Maintenance – Our Recommended List Of Works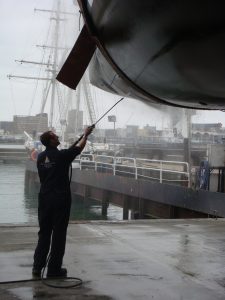 We feel it is essential to carry out a schedule of preventative maintenance and protect your vessel from deteriorating over the winter.
It is all to easy to forget you have a yacht only to find in the spring that the boat and sails are covered in green algae and equipment ceases to work.
Below is a recommended list of winter works that we typically carry out to all the vessels we look after.
We adapt this list to suit the your vessel and your requirements, identifying any works that we feel need attention
Lay Up
Detailed interior clean
Detailed exterior clean including teak
Remove all sails and covers and send away for cleaning and servicing
Inflate dinghy, wash out and dry before stowing below
Go through yacht and all equipment, note down any defects or broken equipment
Check any equipment that has a time expiry date
Carryout a detailed inspection of the mast
Place below all deck safety equipment
Send away any safety equipment that requires annual servicing
Empty cockpit / deck lockers and clean
Wash all blocks, jammers, furling gear with fresh water to remove salt deposits
Rinse out all ropes, halyards and lines with fresh water
Pull all halyards out from coachroof and hang at mast (alternatively mouse out completely and wash before placing below)
Release topping lift and lower boom to deck level
Drain down the fresh water system
Take apart transom shower tap
Top up fuel tank
Set up heaters and dehumidifiers
Clean battery terminals and coat with vaseline
Ensure batteries are on charge
Lift all mattresses and cushions to allow flow of air around the interior of the vessel
Wedge open doors and cupboards to provide good ventilation
Empty holding tanks and flush through with fresh water / tank cleaner
Clean toilets through with fresh water and dismantle pump to prevent freezing
Once Ashore
Service engine and winterise
Service gearbox / sail drive
Check to ensure that vessel is secure in its cradle and / or been chocked correctly by the yard
Remove all fenders and mooring warps, wash and place below
Wash down decks and hull to remove any salt deposits
Plug into shore power and check heaters and dehumidifiers running correctly
Antifouling
Prepare hull for antifouling
Remove loose paint
Sand back hull using orbital sanders
Wash down hull and remove dust prior to painting
Apply primer to any bare patches of GRP as required
Apply two coats of your preferred antifoul
Paint sail drive
Hull Polishing
If required machine cut hull to remove minor marks and scratches
Deeper marks may required more specialised attention
Remove any yellow staining to hull
Machine polish hull
Servicing
Replace anodes as required
Service sea cocks
Check rudder bearings
Check hull to keel joint
Lower anchor to ground and check chain and fixings
Clean hatch seals and apply vaseline
Service winches and jammers
Check cutlass bearing, propeller and shaft
Clean and polish propeller
Re Launch
Recommission engine
Oversee launch
Check all skin fittings
Bleed stern gland (if deep sea seal type)
Re Commissioning
Refit all deck safety equipment
Refit boom and run halyards
Refit sails and covers
Refit transom shower head, recommission fresh water system
Run up and test all systems
Recommission toilet systems
Detailed exterior clean including any teak
Detailed interior clean