Top Tips for Winter Maintenance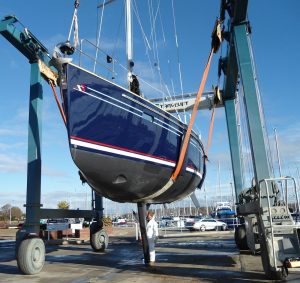 So it is that time of year again, when the end of the sailing season approaches and you start thinking about winter maintenance for your yacht.
Laying up your boat for the winter correctly can prevent untold problems when you come to use the boat again in the Spring, so here are our top tips for winter maintenance.
Plan for and allow the time it takes – whether you are doing it over a weekend or a period of time, then allow plenty of time, as it will take longer!
Drain all the plumbing systems – water damage and freezing can have a huge impact on your yacht come Spring, so check all pipes, tanks, pumps and strainers are all completely drained.
Empty the holding tank and check your yachts manual on the best procedure to lay up your system heads.
Check the bilges and the water tanks.
Remove all your personal and housekeeping items from the boat, including cushions, bed linen and curtains, they can get damp and mouldy if left onboard over the winter.
Remove all loose electronics and battery powered items from the boat, such as torches etc.., these can become damaged by damp and corrosion.
Wash down all surfaces and hardware.
Check all your onboard safety equipment is in good working order, e.g fire extinguishers and buoyancy aids.
Engine layup and Servicing and don't forget the fuel tanks too!
Remember: The more winter maintenance you do now, the quicker you'll be on the water come Spring! Of course if you don't fancy doing all the above yourself or are pushed for time, then contact us, as Universal can do all of it for you at very competitive prices.