UK Yacht Charter: Port of the Week – Yarmouth, Isle of Wight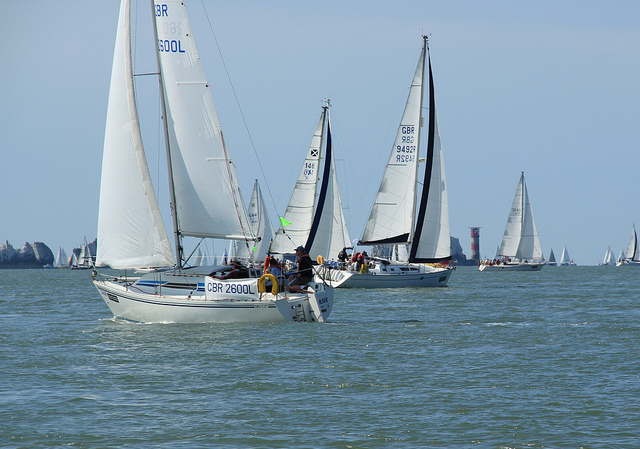 Yarmouth Harbour on the Isle of Wight in the Eastern Solent, is certainly a favourite destination for UK yacht charters. It is a picturesque fishing and yachting port, which has evolved around the natural harbour and is widely regarded as one of the jewels of the South Coast.
Good for..
Close to The Needles and opposite Lymington on the mainland, Yarmouth is an ideal transit point for either cross Channel passages and a great stopping off point, before heading towards the West country.
Yarmouth offers excellent shopping, with a wide range of all sorts of shops from gift shops, art & craft shops, yacht chandlery's and delicatessens.
It is a great place for eating out too, with a number of pubs, restaurants and cafes to choose from.
What to do…
Inflate the dinghy and if you have hired one of outboards, why not explore up the River Yar or take a gentle stroll along the beach.
Go further afield and explore West Wight. Discover Freshwater Bay, The Needles or the sandstones of Alum Bay.
There are plenty of coastal walkways to explore and some stunning scenery to witness.
Take advantage of the excellent bus service, and take the children to Robin Hood Bay and Blackgang Chine or one of the many other attractions the Isle of Wight has to offer.
Getting there…
Yarmouth is accessible at all states of the tide, however watch the tide as it runs strongly across the entrance.
From the west, Black Rock and the shoal water north of the outer east-west pier are the only dangers.
The biggest hazard is the Whitelink ferry which runs to and from Lymington every 30 mins.
Berthing Options & Facilities
The Harbour Master will meet you and direct you to an available berth – VHF Ch 68 – 01983 760321, on busy weekends in the summer the harbour may be full so it is advisable to get there early. Please call them up on the VHF 5 minutes before arriving and they will meet you at the entrance.
The Harbour Office on the South Quay provides shower and laundry facilities. Together with helpful harbour staff, ice and gas, and the adjoining fuel berth provides petrol and diesel.
There are a choice of walk ashore pontoon berths, fore and aft pile moorings and alongside pontoon berths with shore access by dinghy. There are also buoys available outside the harbour.