The South Coast Boat Show 2020
Please note New Dates for this Show : 3rd to 5th July 2020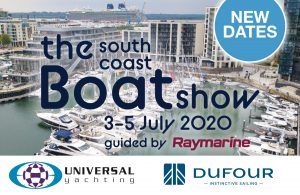 Following on from the success of 2019, the South Coast Boat Show 2020 is an opportunity to see the marine industry's most exciting sail brands. There will be over 80 new boats on display making this a great way to see all the competition in 1 place! This boat show is a must for anyone wanting to purchase a brand-new boat now or within the next 12 months. And unlike many boat shows, tickets are free.
Universal Yachting UK Agents for Dufour Yachts are delighted to be exhibiting at this show. Come and visit us at the Dufour Yachts stand.
Dufour yachts offer a range of luxury sailing yachts between 31 to 61 feet. Dufour is known for their design ideas and technological innovations. Dufour yachts are amongst the fastest, most stable and easiest yachts to handle. This matched with comfortable, onboard living, flexible interior layouts and high-quality finishes make Dufour an attractive range of boats.
We offer a charter management programme where new yachts are part of our Solent Charter Fleet and income generated is used to offset the costs of ownership whilst giving the owner full access and use of the boat.
To make an advance appointment or to simply find out more call Chris on +44 (0) 7798 563860
Book your free tickets here.