A wonderful week for a family on a sailing holiday in the Solent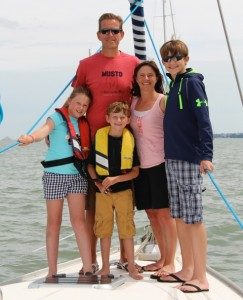 Ever thought about a week sailing holiday in the Solent? Well our very own Warwick family from Universal Yacht Charter, did exactly that this year, read more about their family sailing week here…
Day 1 – Off to Cowes
So the five of us (Mum, Dad and 3 children aged 13, 10 and 6) arrived at Mercury Yacht Harbour, slipped lines around 11am and headed up the Hamble River. Being a bank holiday weekend we thought a short sail and then get into Cowes early afternoon would the ideal first day. Lunch was eaten on the go and we arrived in West Cowes Marina around 2 pm. We were allocated a great overnight berth inside the marina. The Children made friends with the boat dog on the next door yacht. We stepped ashore for a leisurely mooch around Cowes High Street, making the most of a few bargain items in the shop sales followed by a well deserved ice cream. Back to the boat to unpack and sort, with plenty of time to chill and enjoy the start of our holiday yacht charter around the Solent.
Day 2 – Round the Needles and off to Poole Harbour
Up bright and early, decided to head for Poole with little wind to start. Motored to The Needles (or The Noodles as our 6 year old has nicknamed them), took some lovely pics and then got sails up and had a lovely sail on one tack all the way into the entrance of Poole Harbour. We booked 2 nights at Poole Quay Boat Haven as rain was on the forecast for most of Monday. Jumped ashore and walked around Poole exploring the town. Our 13 year old pumped up the dinghy, grabbed the outboard & went for an explore around the marina. Everyone else enjoyed crabbing off the pontoon. Lovely gentleman on next door boat gave us a mega crab catcher his kids were now too old for and wow what a great crab catcher it was, instant success!!
Day 3 – Raining!! So indoor wet fun
Wet day – Nice slow start then we walked into Poole town to jump on a bus and took kids to Tower Park, a Splashdown water flume park in Poole, perfect option for wet play day. Finished the day off with the old Top Gun movie and chinese takeaway on board.
Day 4 – Yarmouth and exploring the River Yar
Said goodbye to Poole, left at 8am with the kids still asleep in bed!! No wind so motored to Yarmouth. A bit rocky and rolly until we got past The Needles. Fascinating to watch the waves breaking not far away from us as we went through The Needles channel. Nicely tucked up in Yarmouth for some chill time for the afternoon, more dinghy play and crabbing. There is a lovely walk along the beach towards Hurst Castle, kids enjoyed skimming stones across the water, watching a fisherman catching mackerel on the shore and someone carving a lizard out of wood on the beach. There is a little beachside bar and cafe where you can sit and watch the world go by on the water across to Lymington. Early evening we all jumped in the dinghy and explored up the River Yar, a very peaceful river with lots of wildlife to pick out along the way. Supper on board and kids movie time before bed.
Day 5 – The beautiful Beaulieu River
Time to wave goodbye to Yarmouth and head for the Beaulieu River. We had a fun sail in up to 20 knots of wind and 1 reef in the mainsail. Saleana was very comfortable in the stronger wind and with wind over tide we had some interesting waves. The children really enjoyed the ride and were not phased at all. Arrived in beautiful Buckler's Hard early afternoon, had a nice lunch on board and then a 2 mile walk along the river into Beaulieu village, explored the village, had a well deserved New Forest ice cream, and took the shorter walk back to Bucklers Hard. Enjoyed a drink in The Master Builders before turning in for supper on board, a movie and sleep!
Day 6 Beaulieu Motor Museum day
After breakfast, took the 2 mile walk into Beaulieu and enjoyed a lovely very chilled day exploring the Beaulieu Motor Museum. We just had about enough energy to take the walk back to Buckler's Hard and enjoyed supper ashore in the Master Builders and a nice bottle of wine before turning in for a well deserved sleep.
Day 7 – Back to the Hamble
We left Beaulieu on the tide about midday and with gusts up to 30 knots headed back to Hamble with the wind behind us and a small genoa arriving early afternoon. We all got a huge amount from our lovely sailing holiday on Saleana with some varied conditions. Sad to be going home but looking forward to our next sailing adventure.