Sailing Courses UK – A Summary
The RYA Cruising Scheme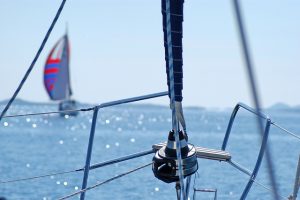 The RYA Sail Cruising Scheme consists of a series of practical and theoretical sailing courses that are conducted by recognised training centres.
There are beginners sailing courses for the complete novice and more advanced sailing courses as you gain more practical experience. The courses are designed to take you through from a complete beginner to the point where you are able to skipper a yacht with all that this entails.
So weather you are learning to sail for the first time or want to build on your existing sailing knowledge under the guidance of an experienced sailing instructor, there is a sailing course that will be aimed at your level.
The natural order of RYA sailing courses are as follows
Start Yachting (2 Days)
Competent Crew (5 Days*)
Day Skipper (5 Days*)
Coastal Skipper (5 Days)
*These can be split up over a number of weekends.
The instructor will continually assess you throughout course and assuming you reach the required standards then the centre will award you your certificate of completion.
Suggested minimum pre course experience
Start Yachting / Competent Crew :- None
Day Skipper :- 5 Days sea time / 100 miles / 4 night hours
Coastal Skipper :- 15 Days sea time with 2 days as skipper / 300 miles / 8 night hours
You can enter the Scheme at any level depending on your experience. However attempting a course above your current level of experience is counter productive compared to one that is pitched at your level.
Whilst there is no requirement to have completed the relevant shore based course these are practical sailing courses and as such are deliberately focused on the practical aspects of sailing. Therefore we try to avoid spending hours teaching theory, so whilst some theoretical training will be covered by your instructor it is important that you have the required experience prior to starting the course.
If you are unsure which level you are at then it is best to discuss this with your RYA training centre.
It is highly recommended that you keep a record of your sailing experience in the G15 Logbook so that you can show your instructor details of your experience at the beginning of your sailing course. It is essential that you keep a record if you have aspirations to enter the RYA Yachtmaster examinations.
Download a copy of our guide that outlines the various sailing courses

The RYA Yachtmaster Scheme
This is the best way to formally demonstrate your sailing abilities and these qualifications are recognised and accepted worldwide. The Yachtmaster Coastal and Yachtmaster Offshore qualifications are only gained by examination and are conducted by RYA Yachtmaster examiners who are independent of sailing schools.
Previous experience and minimum sea time
Yachtmaster Coastal:- 30 days sea time / 2 days as skipper / 800 miles / 12 night hours
Yachtmaster Offshore:- 50 days sea time / 5 days as skipper / 2500 miles / 5 passages over 60 miles including 2 overnight and 2 as skipper
Whilst there is no requirement to take a sailing course before the exam most sailing schools run a continuous 5 day sailing course directly followed by the exam. It is a flexible course designed deliberately to fine tune your existing skills taking into account the different needs of each candidate on the course. The additional benefit is that all the candidates have time to get to know the boat as well as each other prior to the exam.
RYA Certificates of competence are recognised by maritime authorities worldwide and is often one of the qualifications required for professional skippers.
Other sailing courses and mile building opportunities
Whilst there is nothing to stop you retaking a sailing course in order to gain more experience it is often more fun to join a mile building weekend or other similar sailing course in order to build on your experience and gain more miles.
The types of sailing courses on offer are
These are normally run over 2, 3 or 4 days and invariably at weekends. They are often themed so some courses may focus on night sailing, others may take you across the channel. There is no syllabus but naturally there is a level of informal instruction so you can choose to get as much or as little from your instructor as you wish.
These are 1 day courses designed to improve your close quarter boat handling skills in and around marina's.
Again a 1 day sailing course focused on sail trimming and other aspects of performance and handling a yacht under sail.
These are 2 or 3 day courses designed to prepare you for your flotilla or bareboat charter holiday. In conjunction you can also combine taking the ICC course as this is now routinely sort by most charter companies.
The International Certificate of Competence (ICC)
The ICC is required by most European countries (excluding the UK) as evidence of basic competence so it is an essential piece of paper if you are looking to sail overseas with your own boat or if you are considering a yacht charter abroad.
Holders of an RYA Practical Course Completion Certificate of Day Skipper or above can apply for the ICC without any further tests. If you do not hold a certificate you will need to carry out a simple test of basic boat handling, navigation ability and knowledge of the Collision Regulations to gain the ICC ticket.