RYA Yachtmaster Offshore – Pre Exam Requirements
RYA Yachtmaster Offshore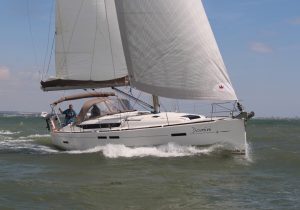 A successful candidate is deemed competent to skipper a cruising yacht on any passage day and night during which the yacht is no more than 150 miles from the harbour.
Our 5 Day Yachtmaster courses are ideal preparation for your Yachtmaster exam. During the course, you will focus on all aspects that you may be tested on practising your skills in a variety of conditions.
The exam will include an assessment of your
Skippering skills
Boat handling
General seamanship
Navigation
Safety awareness
Knowledge of the IRPCS
Meteorology
Signals
RYA Yachtmaster Offshore Candidates will be set tasks to demonstrate their ability as skipper of an offshore cruising yacht and may also be asked questions on any part of the syllabus for all courses except Yachtmaster Ocean.
Pre-exam requirements
Before taking the exam candidates must be aged 18 or over
Seatime
2500 miles including 5 passages over 60 miles,
2 of the 60 mile passages acting as skipper
2 of the 60 mile passages carried out overnight
50 days living on board,
5 days experience as skipper
Half the qualifying seatime must have been conducted in tidal waters and all qualifying seatime must be within 10 years prior to the exam
In addition candidates must hold the following…
Radio Operator's Qualification – A Restricted (VHF only) Radio Operator's Certificate or a GMDSS Short Range Certificate or higher grade of marine radio certificate.
First Aid – A valid First Aid Certificate. First Aid qualifications held by Police, Fire and Armed Services are also acceptable.
Exam Duration – The exam will take about 8 to 12 hours for one candidate and 10 to 18 hours for two. No more than two candidates can be examined in 24 hours and no more than four candidates can be examined in any one 2 day session.
Full details can be found on the RYA's website.