RYA Cruising Scheme Guide – Learning How To Sail
RYA Sailing Course – An Introduction
In this article we set our focus on learning how to sail a yacht and specifically the RYA Sail Cruising Scheme. We look at
How to go about learning to sail.
Benefits of taking an RYA Sailing Course.
Various courses within the RYA Sail Cruising Scheme.
Choosing the right sailing course for you.
Topics covered in the various sailing courses.
Life onboard a yacht and what to expect.
Answering some of the frequently asked questions.
RYA Cruising Scheme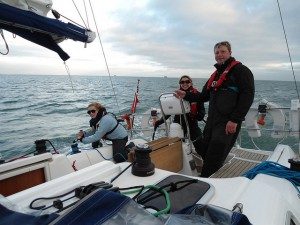 Many people have heard of the RYA Cruising Scheme and the series of sailing courses that the RYA promote such as Competent Crew, Day Skipper & Coastal Skipper but are unsure both where they fit into the scheme and also how to evolve within the scheme as they gain experience and knowledge.
The RYA (Royal Yachting Association) is the national body set up to oversee all forms of boating in the UK. Amongst other things they have developed a series of shore based and practical courses designed to provide you with all the information and guidance needed to ensure that you can learn how to sail and enjoy getting out on the water safely.
Courses are run through recognised RYA Training Centres and are designed for everyone regardless of existing experience. You can join the scheme at any stage subject to meeting the pre course requirements and having the necessary experience.
Each course has a suggested minimum pre course requirement and it is intended that in between each course further experience is gained by building up sea miles through mile building courses or sailing with friends and family.
RYA Courses available to you
Beginners
Intermediate
Advanced
These are practical sailing courses and as such the focus is very much on improving your practical sailing skills.
In addition to practical sailing courses there are a series of theoretical or shore based courses which aim at teaching you navigation, weather buoyage etc. These courses can be taken in a formal class room environment normally over 5 days. However there is also the option to take an online course and you will find a range of detailed reading material available to study from at home.
Whilst there is no requirement to have taken a shore based course prior to embarking on a practical course. It is important that you have sufficient theoretical knowledge for the level of course you are taking.
Do I need to be qualified to sail in UK waters?
Often frequently asked, the simple answer is NO. Unlike driving on the roads there is no requirement in the UK for leisure sailors to hold a formal qualification before heading out on the water.
However this is not the case everywhere in the world and certainly many countries in Europe are now requiring anyone skippering a yacht in their waters to hold a certificate of competence or ICC.
We would always advise you that you check before you go to understand any local legislation that may be in force.
Also if you intend to make a living from sailing in this country then you will need the appropriate qualification and have this commercially endorsed.
So whilst learning how to sail in the UK is entirely voluntary most people believe it sensible to include some structured learning to help develop their skills as they gain experience.
How do I go about learning how to sail ?
A good sailor will have built up a wealth of experience over the years in a variety of craft, sailed with a hoist of different people in a wide range of conditions.
Mixed into all of this most people will have certainly taken some form of sailing course or exam. We would always advise anyone new to the sport of sailing to take a beginners sailing course.
Can anyone learn how to sail?
Simply put Yes !!
Family sailing with children is a great experience and as long as you are relatively active then age is no barrier.
We have often taken people out sailing with a range of disabilities but as always common sense prevails and it is worth discussing any specific needs in advance.
Benefits of a beginners sailing course
Get off to the right start
Understand basic safety principles
Ability to spot good and bad practices
Learning from an experienced professional will give you a great platform on which to build.
In between courses you will naturally sail with other people, some good and some bad !! It is crucial to be able to recognise the difference between the two and thus avoid being drawn into potentially dangerous situations through simple ignorance.
Summary of Beginners Sailing Courses
Start Yachting
Duration …. 2 Days
Pre course experience …. None
Aim of the course …. Basic introduction into yachting
Next Step…. Competent Crew
A course completion certificate is awarded at the end of the course
Start Yachting Course Syllabus
Competent Crew
Courses are run over a continuos 5 day period or split over 2 or 3 weekends
Anyone holding a Start Yachting certificate can complete the 3 day element of a Competent Crew Course to receive their Competent Crew course completion certificate
Pre course experience …. None
Aim of the course …. Demonstrate what you need to become a useful crew member
Next Step …. Day Skipper
A course completion certificate is awarded at the end of the course
Competent Crew Course Syllabus
Summary of Intermediate Sailing Courses
Day Skipper
Courses are run over a continuos 5 day period or split over 2 or 3 weekends
Pre course experience …. Navigation to day skipper shore based / Basic sailing ability

5 Days at sea
100 miles
4 night hours

Aim of the course …. Skipper a yacht in familiar waters by day
Next Step…. Coastal Skipper
Day Skipper Course Syllabus
Summary of Advanced Sailing Courses
Coastal Skipper
Courses are run over a continuos 5 day period or split over 2 or 3 weekends
Pre course experience …. Navigation to Coastal Skipper shore based / Day Skipper sailing ability

15 Days at sea
300 miles
8 night hours
Aim of the course …. Skipper a yacht in coastal waters by day & night
Next Step…. Yachtmaster Coastal / Yachtmaster Offshore
Coastal Skipper Course Syllabus
"Not sure which RYA course is right for you? Download our simple guide……."
Learning to sail in Tidal versus Non Tidal Waters
It is increasingly common to find courses being run overseas and whilst this may hold an immediate appeal.
You need to balance learning to sail in an area without tide and appreciate that your certificate will be endorsed accordingly. This may also restrict you if you wish to charter a yacht say in the UK.
On a practical level learning without tide is certainly simpler but if you are just starting out then a beginners course in non tidal waters may not be a major concern. However as you progress up the RYA ladder on to more advanced courses then being able to handle tide is an important skill.
It is also worth noting that there are varying degrees of tide and whilst some training centres market themselves as tidal in reality there is a difference between learning to sail in the tidal waters of the Solent and say the coastal waters of Spain or Portugal. Many people consider it preferable to learn in a more challenging environment.
What to expect on your course and life onboard
RYA Sailing courses are normally run on yachts between 34 and 40 feet, on typical production yachts and similar to anything you are likely to charter or own in the future.
One main aim of these courses is to experience what it is like living onboard for a period of time. This includes eating and sleeping onboard and sharing out the duties and roles required for the harmonious running of a yacht.
You will set off from your home port and visit a variety of different ports and anchorages including a short period of sailing at night. Whilst there is a set syllabus to cover this is meant to be fun !!
Most evening meals are taken ashore and there is always the opportunity to explore some of the places you visit.
Our courses are run in the Solent and you can expect to visit, Cowes, Yarmouth, Lymington, Beaulieu, Portsmouth even setting foot outside of the Solent towards Poole.
It is worth remembering that sailing in a straight line is pretty straight forward, problems generally arise when entering and exiting a port, mooring up in a marina, raising and lowering sails and reefing so these are some of the aspects you will focus on. This is also the reason why we stay locally within the Solent and do not set off further afield.
Number, Age & Mix of Students Onboard
That maximum ratio of students is 5:1 although we try to run courses with 3 and a maximum of 4 people.
Competent Crew & Day Skipper students can be mixed on the same course Coastal Skipper and Competent Crew students can be mixed on the same course.
We do not mix Coastal Skipper and Day Skipper students.
When it comes to children and young adults onboard. There is a minimum age for each course and for families wishing to introduce younger children to the sport then we invariably advise them to book the whole boat to themselves.
There is no minimum age for the Start Yachting and Competent Crew Course The minimum age to be awarded a Day Skippers Certificate is 16.
The minimum age to be awarded a Coastal Skippers Certificate is 17.
Accommodation onboard
Most yachts sleep 8 people and follow a similar layout, with 3 double cabins and the saloon table converting into an additional double berth.
Depending on the number of people on a course you may find yourself sharing a cabin. Although we do promote and offer you the option to book your own cabin.
Given that your instructor is working, it is common for them to take one of then cabins. Although who sleeps where is normally worked out with everyone at the start of the course and is very much dependent on the make up of people on the course.
Accommodation Options On Our Sailing Courses
Advantages of booking your own cabin… Naturally living onboard a yacht in a relatively confined space for anyone not used to it may be off putting.
In addition to the comfort of having your own sleeping space the added advantage is that it reduces the number of people on the course and therefore increase the amount of practical hands-on time you have practicing and honing your sailing skills.
The yachts & what is provided onboard?
All yachts have to comply to a set of minimum safety standards. These are laid out by the MCA and the RYA.
They cover the material aspects of the yacht you will learn to sail on and also dictate the minimum amount of safety equipment available to use.
Training Centres and Sailing School yachts are inspected annually by independent inspectors to ensure that the correct standards are being adhered to.
Our Sailing School Yachts
Items provided onboard
Life jackets and harness lines
Ships Safety Equipment such as liferaft and man overboard equipment
Galley and Cooking Equipment
Navigation Equipment
What to bring
You will normally expect to bring your own sleeping bags but most schools offer pillows and pillow cases.
A range of clothes to suit the time of year.
Soft soled shoes, sailing boots if you have them.
Sun tan brea, hats and sailing gloves
Differences Between Sailing Schools and What is Included in the Price of the Course
Student / Instructor Ratio
The difference between having 5 students or 3 plus your instructor can make a huge difference to your overall experience.
Not just with regards to the living space onboard but also the amount of time your instructor will dedicate to your training and the hands on time you will get to practice various manoeuvres.
Choosing to book your own cabin will have the natural effect of reducing the number of people. Some schools also have a policy of restricting the number of students onboard to 4 per course.
Obviously all of this has an affect on the course price but you may consider it worth paying a little extra for added privacy and greater comfort onboard.
Food
Most schools include an element of food within the course fee, generally breakfasts and lunches. The only difference normally will be the extent of evening meals provided.
For some people it is nice to get off the boat and eat ashore in a local pub after a long day on the water. For others having an all inclusive price and eating onboard is preferable. It is down to personal preference but worth checking in advance.
Mooring Fees
These can add up and a typical 37 / 38 foot yacht can cost between £30 – £40 per night to moor. Some schools run a system where student chip into a kitty to cover mooring fees other schools include mooring fees within their standard course price.
Fuel & Gas
Normally include within the course fees.
Age / Size of Boat
Don't necessarily be put of by the age of the boat but the standards of yacht and equipment can and do vary quite dramatically.
Equipment
Whilst most equipment onboard is fairly standard with the increased use of GPS and chart plotters you may find not all schools have updated navigation equipment.
Whilst you will learn to navigate on paper charts, the use of chart plotters is an integral part of the course and something you will inevitably come across on other yachts you will be likely to sail on. It can be a huge benefit to practice using a chart plotter during your course.
Where can I go to gain more experience ?
Sailing clubs are certainly a good way to find like minded people. You will often find people willing to take you out.
Dinghy sailing is a great way to improve your sailing ability
Most sailing schools offer a range of mile building courses
Charter a yacht with friends or colleagues from work
What Next ….
The next step is the RYA Yachtmaster Scheme. RYA/MCA Coastal Skipper, Yachtmaster Offshore and Yachtmaster Ocean Certificates of Competence are gained by examination, conducted by RYA Yachtmaster Examiners who are independent of sailing schools.