How to sail: Night Sailing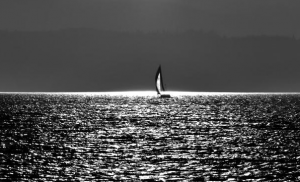 Another in our series of "How to sail" this time we are talking about NIGHT SAILING.
Night Sailing – Stressful or Superb? Do you lack the nerve or confidence to do any night sailing? Well here at Universal Sailing School we offer a 2 day mile building trip with a night sailing course, that will build up your confidence and give you the skills required to enjoy the peace and tranquility that comes with sailing under the stars!
Not only that, you then gain more flexibility in your charter plans to take advantage of longer periods of time at your planned destination and it can mean you can use the tides more to your advantage.
Here are our top tips to help you take the stress out of night sailing!
Plan your route with care – familiarise yourself with the course you are going to take on the charts and the waypoints and navigation lights that you will come across. It is worth also keeping a torch with you for checking charts or guides.
Keep your sails short and therefore easier to control – before you head off also check that all your onboard deck lights are working correctly.
Sleep beforehand! Make sure you are well rested before your trip and ensure you have lots of hot tea and coffee and snacks with you. A good tip for staying awake is to move position constantly – thus helping you stay warm and keep you alert!
Don't get cold! Make sure you have plenty of warm layers with you so you don't get cold in the night.
Keep yourself and the Crew safe by making sure that everyone on deck is clipped onto a secure point – be it a jackstay or anchor point and always ensure everyone is wearing life jackets. It is prudent to always keep a radio watch too.
So contact us to do some night sailing experience with other sailors and a trained instructor and gain the confidence to go it alone, you won't regret it, as it can be a truly magical experience!