Get your yacht Sailing Fit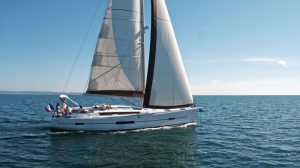 So Spring is here, getting your sailing yacht ready for a good season of sailing is essential in order to maximise use and avoid costly maintenance issues.
Here are our top tips to get your charter yacht Sailing fit this season;
Be Prepared…
An essential part of a good lay-up of your yacht should involve a thorough and diligent check of all sails, rigging, deck fittings, engine and electronics, enabling you to schedule any work that needs doing over the winter. However, normal wear and tear happens and things change so a fresh look over your yacht is essential before the new season.
Check and check again…
Look over your yacht, inspecting everything, in particular high load areas such as batten pockets, reef points and spreader patches.
Get the sails out and check them over for any cuts or tears and signs of delamination.
Service the engine – including changing oil and oil filters, the fuel filters, water pump etc…
Rig check – paying attention to all rigging attachment points and checking the smooth operation of the masthead sheaves.
Deck fittings – should all be dismantled, cleaned and reassembled, if not done as part of your lay-up. Service the winches and inspect all the lines for any chafing or other damage.
Safety Kit – such as lifejacket actuators, flares, fire extinguishers and EPRIB batteries. Check your insurances and other paperwork too, ensuring all charts are up to date or replaced.
Set yourself realistic timescales….
Always plan for longer than you think you need, maintenance and the checking of every part of the yacht is time-consuming and needs to be done properly in order to get the maximum performance and reliability out of your yacht for the season. So allow yourself plenty of time.