Experience required for chartering a yacht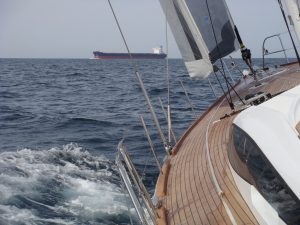 We are continually asked whether the qualifications we offer are appropriate for chartering a boat abroad.
So some background – Yacht charter holidays allow you to charter a yacht taking on various levels of responsibility.
From the easy (Skippered Charter) through to the medium (Flotilla Sailing) through to the most challenging where you are in charge of your own yacht (Bareboat):
Skippered Charter:– Ideal if you are new to sailing, don't want the responsibility or simply want the luxury option of having a skipper and crew onboard to look after you. Skippered charters are commonplace on larger super yachts.
Flotilla Sailing Holidays:- Ideal if you are new to sailing or just enjoy the social aspects a flotilla saying holiday offers. Sail as you please during the day, and then take the opportunity to enjoy the social side in the evenings. With an experienced team on the lead boat you will get as much or as little support as you need
Bareboat Charter:- Aimed at those who already know how to sail and can assume total responsibility for the boat and crew. It offers a great freedom for you to explore the sailing area whilst still with the peace of mind that the charter companies base staff are on hand should you require assistance.
What qualifications do I need to charter a yacht?
Before we actually specify our qualification recommendations we should first mention that in a lot of countries there are no formal qualifications required by law and it is generally not a barrier to chartering a yacht.
Ultimately it is down to the charter company to be reassured that you have the necessary experience to safely handle the yacht. This normally involves completing a questionnaire and supplying a sailing resume.
However, there are certain countries (mainly in the Mediterranean) that do insist on the skipper being in possession of a sailing certificate generally a ICC or International Certificate of Competence, however in our experience any charter company will expect to see this backed up by suitable and relevant experience.
In addition one person onboard should hold a VHF licence.
Finally you must remember to take these qualifications with you, as you are likely to have to present them to the local authorities.
Destination Requirements
Charter qualifications required in the UK
Whilst there is no legislation in the UK requiring skippers to have a formal qualification. We generally look for skippers to be qualified or up to the equivalent standard of Day Skipper as a minimum requirement for chartering within the tidal waters of the UK. We also look for another experienced crew member to be onboard to act as first mate, preferable to a minimum standard of Competent Crew or equivalent experience.
For passages further afield perhaps to France then the skipper would be expected to hold at least a Coastal Skippers certificate with the first mate up to Day Skipper standard.
Turkey & Mediterranean Country Charter requirements
Most countries in the Mediterranean now require you to have the International Certificate of Competence (ICC) or RYA Day Skipper as a minimum. Invariably this requirement is not put in place by the charter companies but set by the local authorities. So whilst you have to have this piece of paper the charter company will still expect you to be able to demonstrate relevant experience in similar sized yachts and waters.
When chartering in Greece a second member of the crew must also be qualified or experienced to Competent Crew level.
It is important to check exactly what the requirements are for area in which you intend to sail with your charter company.
Yacht Qualifications required for Caribbean.
There are no requirements in the Caribbean to hold a specific licence and each charter company will want to see evidence of your sailing experience. Remember it is not worth over exaggerating your competence as you risk the base insisting on you hiring a local skipper if they deem you not to be up to suitable standard.
Thailand Yacht Charter Qualifications.
Like the Caribbean the authorities in Thailand do not require bareboat charterers to hold any specific licences however it is worth taking them with you if you have them and certainly it will help the charter company to assess your level of competence.
Charter Qualifications required in Canada
In common with all sailing areas, charter companies in Canada will want to see that you:
1. Have successfully chartered / owned a vessel of similar size.
2. Are comfortable navigating and cruising in tidal waters
3. Experienced up to coastal skipper with coastal navigation level
What if I do not hold a formal yachting qualification?
Luckily this is not a tragedy, experience is key. It is recognised by most charter companies that there are numerous people with thousands of sea miles whom have never taken a formal sailing course or qualification. Equally there are some who have a formal qualifications albeit with minimal sea miles and experience.
Therefore if you are not qualified discuss your abilities with the charter company who will base their decision on:
Formal qualifications
Relevant experience in similar sized vessels and waters
Experience of others onboard
Size of yacht and difficulty of sailing area that is being booked
Importantly when choosing your destination keep firmly in mind not only your abilities but also the experience of those that you are sailing with. Your family and friends won't thank you for taking them out in a high wind area if this is there first time out on a yacht. Don't forget it is not just your holiday and as skipper you are responsible for the safety and welfare of everyone onboard.