Yacht Charter Hamble – The Reward
A couple of weeks ago we sent you over to Newtown Creek, our Anchorage of the Month.
All this cold and dreary weather got us thinking, was there anywhere on dry land nearby, where you could reward yourself with some warming food and drink after your yachting adventure?
Luckily yes there is! With the help of a dinghy and a brisk walk ashore you can reach The New Inn.
It is situated towards the west side of the Island, on the main Yarmouth to Newport road, just by Shalfleet bridge.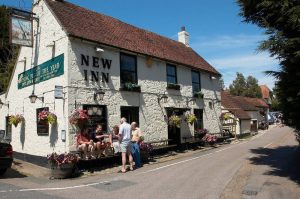 It has won awards for the Isle of Wight Dining Pub of the Year, offers real ales and specialises in seafood. There is also a large authentic open log fire to warm up by if you got the chills on your hike!
If your yacht is safely tied up and you are in need of some reviving it is well worth a visit!
Just a little bit of history trivia for you – The New Inn is an Historic Inn dating from 1743. The last 'Newtown Arms Inn' was closed in 1916. It was in an unusually shaped building locally referred to as 'Noah's Ark'!