Yacht Charter UK – Port of the Week: Cowes
Yacht Charter UK – Port of the Week: Cowes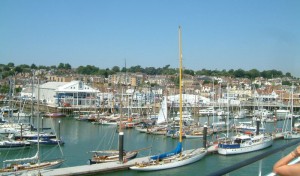 Cowes is a must visit place on any Yacht Charter UK in the Solent. It is known worldwide as a home for international yacht racing since the founding of the Royal Yacht Squadron in 1815. It is also home to the one of the world's oldest regular regattas every August, Cowes Week. Steeped in sailing history it enjoys a central location in the Solent and is the Isle of Wight's main port with a natural harbour at the mouth of the Medina River.
Good for…
Soaking up the vibrant sailing atmosphere.
Having a wander around the shops, which range from boutiques to quirky gift and nautical shops.
Watersports and activities within the harbour – Shrape Watersports Area offers dinghy sailing. kite surfing, wind surfing and rowing
Home of the UK Sailing Academy.
Where to go…
Local museums where you can learn more about the maritime and military histories of both Cowes and the Isle of Wight.
Osborne House – Queen Victoria's former residence and easily accessible from Cowes.
Berthing Options and facilities
There are plenty of Marina's & alternative berthing options to choose from all with excellent facilities.
Cowes Yacht Haven – 01983 299975 / VHF Ch 80
Shepherds Wharf – 01983 297821 / VHF Ch 80
East Cowes Marina – 01983 293983 / VHF Ch 80
Whitegates pontoons – are quiet and ideal if you want to avoid a marina, you will need to use your dinghy or a water taxi to get ashore.
Folly Inn – has a dedicated visitors pontoon at the entrance of the harbour
Getting there…
The main harbour entrance is clearly marked. If approaching from the west and the Gurnard side you should keep clear of the shore to avoid the rocks along the green and stay clear of the yellow mooring buoys.
If approaching from the east you should pass at least 200m north of Old Castle Point leaving the shrape beacon to port and staying north of all swinging moorings.
You are strongly advised to enter the harbour under power due to the strong tidal flows and volume of other traffic.