Beaulieu: UK Yacht Charter Port of the Week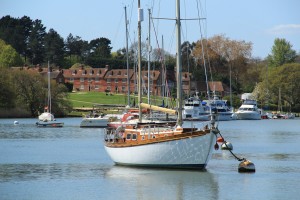 If you are doing a UK yacht charter this season, then a fabulous place to sail to from the Solent would be up the Beaulieu River towards Bucklers Hard and Beaulieu.
Good for… A beautiful river which meanders through a nature reserve teeming with birds. Continue past Bucklers Hard, by moored yachts and idyllic houses set into the wooded banks and finish at Palace House. Fabulous place for peace and quiet and great care is taken to keep it that way. Beaulieu National Motor Museum, House and Gardens.
Where to go… Buckler's Hard is a picturesque 18th century village set on the banks of the river, in the heart of the New Forest, historically famed as the shipbuilding location of some of Nelson's fleet. There is the Buckler's Hard story and cottage displays to be enjoyed. A short distance away is Beaulieu, home of the National Motor Museum, Palace House & gardens and Beaulieu Abbey. The local woodlands give you a feel of the natural beauty of this historic village. The Master Builders House hotel and pub, popular and serves good pub food.
Berthing Options & Facilities… Berths at Bucklers Hard Marina can be booked in advance, subject to availability. There is a visitor pontoon and moorings upstream of the marina but you will need a dinghy to get ashore. The piles are a popular and cheaper alternative.
Getting there… Beaulieu River benefits from a double tide and a secondary high water. The flood takes 6 hours to come in, then there is a second high tide some two hours later after a gentle fall. After this second high water there is a period of slack water for about an hour before the ebb which only lasts two and a half hours. As a guide a vessel drawing 1.5 meters can enter the harbour an hour and half after LW Springs. There is a clearly identifiable transit marking the entrance into the River between the Millennium Beacon, Beaulieu Spit Dolphin & the yellow racing mark "Raymarine". Thereafter there is a clearly defined channel of red & green piles.
Useful info… A small selection of provisions are available from the Harbour Masters Office Fuel & Water are available from the pontoon which is manned until sunset. The marina offers full shower, toilet & launderette facilities Between April & September, subject to weather, there is a water taxi operating 0800 – 2300 hours. It runs between Gins Farm to buoy number 240 just south of Beaulieu village and fares are between £1.50 & £3. Contact the taxi on VHF Ch 77 or 01590 616200.