Solent Cruising Area – Sailing Charters For All
Sailing Charters in the Solent – A guide to this famous sailing area
The Solent encompasses a large area of protected water and is probably one of the busiest and most famous sailing areas in the world. It is an area steeped in history and natural beauty, with pretty fishing ports, islands and a wealth of activities. Just outside of the Solent are other great cruising locations, including Chichester Harbour, Poole Harbour, Cowes, Yarmouth, Lymington, Beaulieu River, Newtown River, Hamble River and Portsmouth Harbour.
Chichester Harbour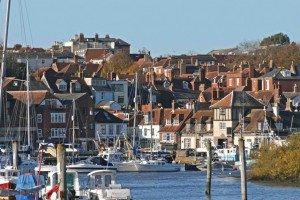 Chichester Harbour comprises an area of some twenty-seven square miles of navigable water set against the backdrop of the Sussex Downs. It provides some of the most rewarding scenery in the south of England. There are plenty of places to visit within the harbour comprising of a mixture of marina's, buoys and anchorages. This vast natural harbour is an ornithologist's delight, popular with bird watchers and walkers alike.
The beautiful waterside village of Bosham is a magnet for artists. It is steeped in history, most famously as the place from which King Harold II set out on his ill-fated expedition to Normandy. This scene is depicted on the Bayeaux Tapestry. Legend has it that it was here that King Canute attempted to stop the tide approaching.
Poole Harbour
Poole Harbour is the second-largest natural harbour in the world, Poole offers endless possibilities for sailing enthusiasts. Whether you are after a lively night on the quay or a quiet night at anchor, you are bound to find the perfect spot.
Either side of Poole Harbour entrance is two very different stretches of beach. To the west, Studland Bay is pretty and fringed by sand dunes. To the east of the harbour entrance, multi-million-pound properties line Sandbanks beach, becoming high rise apartments all the way to Bournemouth.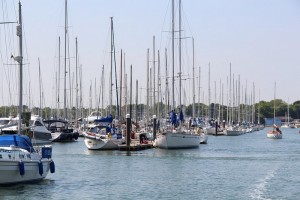 Poole Quay is the hub of the town. The front is lined with pubs, bars, restaurants and shops and in the summer is heaving with tourists.
Cowes
Cowes harbour offers all tide access, and berths are relatively easy to obtain and reasonably priced. Although during peak events including Cowes Week and Round The Island Race it can become very crowded.
There are two main marina's in West Cowes, Cowes Yacht Haven and Shepherds Wharf. Cowes Yacht Haven can get quite rolly especially on the outside berths.
East Cowes Marina offers excellent facilities and is noticeably more relaxed and friendly with a superb on-site restaurant & bar.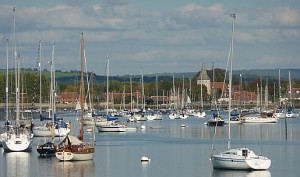 Yarmouth
Yarmouth is a picturesque fishing, ferry and yachting port widely regarded as one of the jewels of the South Coast.
Yarmouth Harbour has been updated over recent years and now hosts walk ashore pontoon and great facilities. As such it can get very popular at peal times and will attract many yachts and motor cruisers.
A few of the berths are available to book online the rest and majority of berths are available on a first-come first-served basis. There are also a number of buoys located outside the harbour which are served by a water taxi should not wish to row ashore.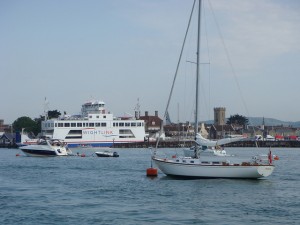 Lymington
Lymington is a bustling & attractive Georgian market town with a wide variety of shops & picturesque boutiques.
The Georgian and Victorian architecture and the varied and colourful history helps to create a distinctive quaintness drawing visitors back time and again. The restaurants and hostelries are too numerous to mention!
There are two marinas Lymington Yacht Haven and Lymington Marina both of which are within walking distance of the town centre and provide all the facilities and services one would expect of a leading yacht centre.
Beaulieu
Sailing to Beaulieu is one of those magical trips that you will want to repeat again and again. Within the heart of the New Forest the Beaulieu River and a few miles upstream the 18th century shipbuilding village of Buckler's Hard occupy a superb location surrounded by oak woodland within the Beaulieu Estate.
Everyone has heard of the Motor Museum at Beaulieu but few will have seen just how beautiful the river is leading from the Solent, past Buckler's Hard and ending up at Palace House. The Master Builder's House hotel and pub is a favourite meeting place for yachtsmen.
The most convenient berths are at Bucklers Hard Yacht Harbour. You will pay for convenience of being able to stroll ashore and it does get busy at peak times.
Newtown Creek
Newtown Creek is a delightful natural harbour where you can anchor or pick up one of the visitor buoys.
Newtown Creek provides the perfect setting for a barbeque (weather permitting), either aboard or on the Western entrance spit, below the high water line.
There is public landing on the East side of the river at Newtown Quay. From Newtown Quay you can walk across the boardwalk to the historic Newtown village, make use of the reserve's two hides, or follow one of the two nature trails.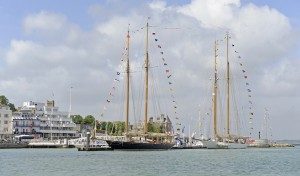 From Shalfleet Quay a path leads across the meadows alongside the river to the village of Shalfleet, a typical English village with thatched cottages, a village shop, church, manor house and watermill.
Hamble River
The River Hamble is a major centre for all types of recreational boating, home to thousands of sailing yachts and motorboats and the heart of the south coasts sailing scene. Recognised as the home of British Yachting, there are several major marinas on the Hamble River which offer extensive facilities for visiting yachtsmen and these are supplemented by Harbour Authority midstream pontoon berths. All marinas offer good restaurant facilities, or you can venture into Hamble village to the delights of the village pubs & restaurants.
Portsmouth Harbour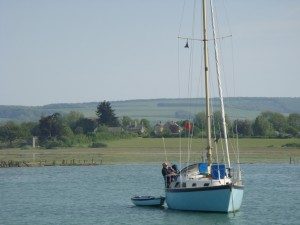 A city surrounded by the sea, Portsmouth's history is strongly linked with the Royal Navy and is home to almost two-thirds of the Royal Navy's surface fleet.
The city houses some superb military and maritime museums including Portsmouth Historic Dockyard, the D-Day Museum and Overlord Embroidery, and the Royal Marines Museum.
The Historic Dockyard is the jewel in Portsmouth's crown, home to the world-famous historic ships The Mary Rose, HMS Victory and HMS Warrior 1860. Together with interactive Action Stations, The Royal Naval Museum and Harbour Tours, there truly is something for all ages.
There are many marina such as Port Solent Marina , Gosport Marina, Gunwharf Quays, Haslar Marina which offer good restaurant facilities and fashion shops to visit.
The Solent and Isle of Wight is world-famous as being one of the premier yachting and cruising areas in the world with many beautiful locations and picturesque harbours, marinas, rivers, creeks and beaches to explore.