Sailing Courses – what to expect on yours!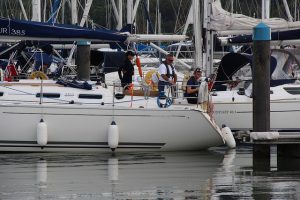 This guide will outline what you can expect during our 5 Day RYA Sailing Courses.
RYA Sailing Courses are normally run over five days. Except the Start Yachting course which is run over two. Competent Crew and Day Skipper courses can be spread over a number of weekends but the Coastal Skipper course must be run over a continuous five day period.
Normally our sailing courses start on Sunday evenings and run through to Friday afternoons.
The first evening is mostly taken up with getting to know your skipper and fellow students. Before dinner which is taken ashore, there will be few short briefings about the yacht. There is plenty of time to settle in, work out where everyone is sleeping and pack everything away ready for the next day.
The skipper will set out an itinerary based on weather conditions and the experience of those on board taking in a number of ports and anchorages around the sailing area.
One of the main purposes of a sailing course is that you experience what it is like to stay onboard a yacht for an extended period of time. This is why all RYA Sailing Courses involve you living onboard for the full 5 days. Whilst it is not unheard of that you may return to your home port, you will however not day sail from the vessels home port.
You can expect to cover approximately 100 miles during your sailing course and the course will include a minimum of 4 hours sailing at night.
During a Day Skipper and Coastal Skipper course, each trainee skipper will be given the opportunity to skipper the yacht under instruction and throughout the course the instructor will inform the students of their progress and ensure that everyone is aware of their strengths and weaknesses.
Places you will visit
Our RYA sailing courses are based in the Solent and start from Mercury Yacht Harbour on the River Hamble.
You can expect to sail around the Solent and potentially as far afield as Poole Harbour. Ports might include Cowes, Yarmouth, Beaulieu, Lymington, Portsmouth Harbour, Newtown Creek, Bembridge.
On a Competent Crew or Day Skipper Course the best learning opportunities come from frequent entry and exit of harbours, with plenty of boat and sail handling practice. Travelling long distances are actively avoided as sailing in a straight line for hours on end limits your learning opportunities.
Typical food menu
On our sailing courses we provide all breakfasts and lunches plus one evening meal, which is reserved for the night sail. The remaining evening meals are taken ashore in one of the many local pubs on offer around the Solent.

Typically breakfasts will include a mixture of cooked breakfasts as well as cereals and plenty of toast.
Lunches will include Quiches, Pasties, Tuna Pasta, Sandwiches & Salads
We also provide plenty of fruit, biscuits & soft drinks
The evening meal is normally something you can cook on the go like fresh pasta, tomato sauce and garlic bread.
Eating and sleeping onboard
As part of the sailing course it is intended that all students take an active part in the general day to day running of the vessel. This includes sharing the chores such as cooking, washing up as well as cleaning the boat during and after the course.
Depending on the number of students, sleeping will be in shared cabins or the saloon.
Note : We offer the option for you to book your own cabin for the duration of your sailing course, if the idea of sharing a cabin with someone else does not appeal !!
What to bring with you on our RYA Sailing Courses
We provide pillows and pillow cases but please bring your own sleeping bag
It is essential that you bring enough suitable clothing to suit varied weather conditions.(Jeans are not great if they get wet and plenty of layers provide better insulation)
Wet weather gear – bring your own or available to hire
Clothing for going ashore
Footwear – Soft soled trainers or deck shoes with warm socks
Sailing Boots (or 2nd pair of soft soled shoes)
For hygiene reasons we are unable to supply sailing boots.
Hat & Gloves:- Note, if windy hats may tend to disappear overboard so make sure they are tied on!
Towel & Wash kit
Sun cream & sun block (if necessary)
Sunglasses (with spec saver)
Money to cover food, drinks, etc.
Passport size photo for RYA Certificate (Day Skipper/Coastal Skipper, 2 photos for Yachtmaster Coastal & Yachtmaster Offshore)
Finally please pack your clothing in a soft holdall as suitcases cannot be stored on board.
Safety equipment onboard
Each of our sail training yachts come fully equipped to the highest standards and with all the required safety equipment as laid out by the RYA & MCA.

This includes:-

Automatic gas inflating lifejackets
Harness Lines
Liferaft
MOB Horseshoe lifebuoys
Inflatable Dan Buoy
Fire Extinguishers
Other Equipment
Colour GPS Charter Plotter
Most of the yachts have a TV / DVD player
& Heating