What experience do I need ?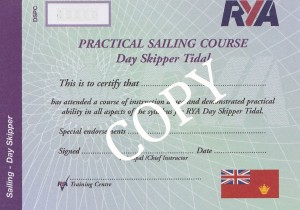 Simply put it to take one of our yachts on a Bareboat basis we look for the skipper, as a minimum, to hold a Day Skipper (Practical) certificate.
Plus one other person needs to have suitable experience to take charge of the yacht in an emergency.
Having said that we also look at your previous sailing experience, the type of yacht you are intending to charter and your planned sailing itinerary.
So even if you have no formal qualifications then do rule out bareboat chartering with us as an option.
However if you are looking to take one of our 50 foot yachts and only hold a Day Skippers Certificate then we will certainly expect to see previous skippering experience on that size of vessel.
Should you have aspirations to cross the channel then we ask for a minimum of Coastal Skipper plus a First Mate with a minimum of Day Skipper. But the same rules apply and we will always look at your sailing experience before agreeing to the charter.