How to sail: Picking up a Mooring buoy
This week in our "How to Sail" series we are looking at how to pick up a mooring buoy.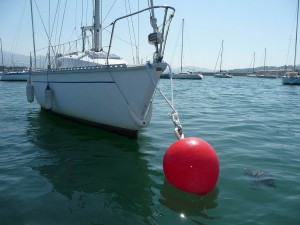 Picking up a mooring buoy is generally fairly easy, however, we have all been there when we go round and round picking it up and dropping it again! Never fear – read our handy tips and you can't fail!
About Mooring Buoys
Most mooring buoys are generally attached to a ground chain which is attached to a heavy object or anchor buried in the sea bed.
Often the buoy itself is too heavy to lift as it has to be big enough to support the heavy riser chain, so there is normally a ring on top of the buoy to moor to, and even sometimes a "pick up" line which makes life even easier.
Prepare
Check the area and ensure by looking at your charts and almanacs that you can use the buoys provided.
Get a boat hook and mooring rope ready on your approach to the buoy
Approach
Try and aim into the tide or into the wind, sometimes a good indicator is the direction of the pick up line, which will be indicating the direction of the tide.
Keep the buoy to one side of the bow slightly so you can maintain a visual on it.
Take it slowly and once the buoy has been picked up, reverse slowly trying to stay on the buoy until the crew have attached the boat to it on the bow.
Stay Attached!
Pull the mooring rope in until the main mooring line is reached which can then be cleated off.
Best practise would be to tie a round turn and two half hitches to the ring on the buoy, with two lines if possible.
Never fear – if you get it wrong, most buoys will bounce off your boat and you can just go around again to pick it up.