for GPS and other navigational instruments, all in easy view of the helm.Dufour's research suggests their owners spend over 70% of their time above deck, so much attention has gone the cockpit to create a spacious, uncluttered, comfortable sailing area, as well as ample relaxation space when at anchor.
The cockpit seats are long and wide, so there's plenty of room for guests on board as well as sunbathing.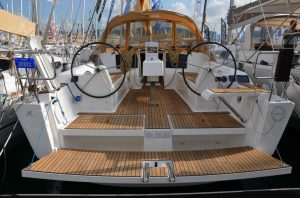 Below decks the instant impression is a light and spacious living area. This has been achieved through the coach roof construction.
The injection moulded, sandwich construction decks contain a PVC foam core. This creates significant deck strength and enables a sleek, flat coach roof on the outside that gives plenty of headroom down below and no separate headlining is needed to cover additional deck beams.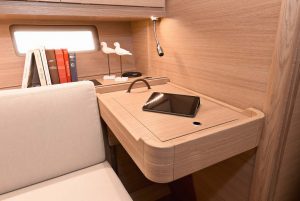 It also means deck fittings are easily accessible for maintenance purposes rather than having to pull out a headlining.
The low profile coach roof also enables Dufour to fit their distinctive, fixed coach roof windows as well as side windows and opening hatches, which fills the interior with natural light.
Interior layouts include either two or three double cabins with the option of an L-shaped or full length galley and one shower/heads. Or there is a two or three cabin layout with two shower/heads, which is a layout normally only found on boats over 40' rather than on a 36'.
The choice of layout gives flexibility for carrying different crew numbers and guests on board, planned lifestyle and cruising locations.
The layouts with larger relaxation below decks are likely to be most popular in mixed climates and when sailing in hotter regions owners may choose for the two heads option as they will spend the majority of time above decks.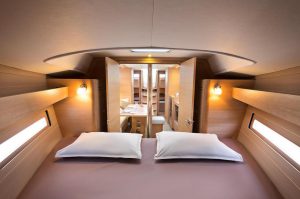 Either galley layout comes fitted with a King-sized 180 litre fridge with two drawers and is accessible from above and below.
Much thought has gone into how the space below is used when afloat and at anchor.
The table design fitted depends on the galley layout, and recognises that much of the time a full length table is not required, especially when underway. Boats with a long galley are fitted with a 1m long table, which can be lengthened to 1.4m to accommodate up to eight guests.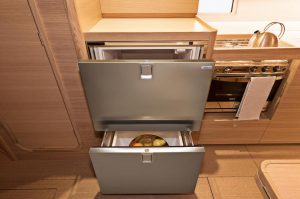 In keeping with Dufour's modular approach to interior design, a neatly concealed sliding stool extends one end of the sofa to provide table end seating.
Whilst the dual-purpose chart table can be dropped down to seat height, extending the sofa to create an L-shaped 'chaise-longue' end, adding more seating.
Full length it creates a 2.6m sofa, that can also be transformed to become an extra berth, and is of a size more commonly found on a 50' yacht.
There is ample storage below decks, above and below the sofa berths and cupboards within each cabin. Storage lockers are hinged from the base to prevent contents falling out and gas struts mean they open smoothly and do not slam shut on you.
There are deep storage shelves behind the galley so bottles and food containers will be safe, and likewise within the cabins. The storage shelves are ample and deep enough for welly boots and sailing gear, rather than just the normal shallow shelf for phone, suncream and sunnies found on many similar sized boats.
More Info (Click here)