Dufour Yachts – Dufour 382 Review
The versatile Dufour 382 Grand Large – a wolf in sheep's clothing
Designed to optimise on board comfort in all sailing conditions, the 382 GL is a highly versatile all-rounder with six distinct versions, and an extensive choice of galley, cabin and heads combinations.
With a fully battened mainsail and self-tacking jib (108% optional overlapping headsail) the 382 GL satisfies sailors wanting great performance, and the sail control systems are all set up to be within easy reach and retain a clean cockpit layout.
The Dufour 382GL is sized right at the heart of the cruising market and has no less than six different galley and saloon layouts, offering owners highly versatile choices for how their boat can used.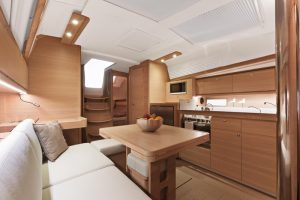 So whether it is long-distance cruising as a couple, regular sailing or boat-sharing with friends or earning her keep as a charter boat, the optimal layouts have already been planned for you.
As well as being a great all rounder, the 382GL offers great performance too. In recent tests this 11.25m (36') yacht kept pace with a well-sailed, sporty 40' production cruiser-racer in a force 4, when the larger yacht should have marched away.
Dufour Yachts has a long-standing association with yacht designer Umberto Felci, who has integrated many performance design elements from his work on racing yachts.
This 382GL yacht sports the latest innovations in terms of hull, appendage design and yacht architecture.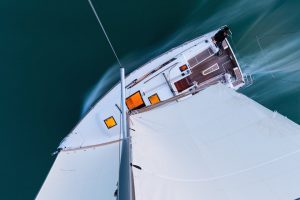 The performance is driven from the high aspect rig and 58m2 of sail area, with a fully batten mainsail and self tacking jib offered as standard and the option of a 108% overlapping genoa for those who want additional performance.
The headsail is furled on the latest design of low-profile Facnor Flatdeck furler, which uses flat webbing instead of rope to furl it.
This combined with the self tacking jib has enabled the headsail to be lowered, increasing the sail area and on the wind performance.
A standard feature across all the new Dufour Grand Large range is the boom is situated around waist level at the gooseneck.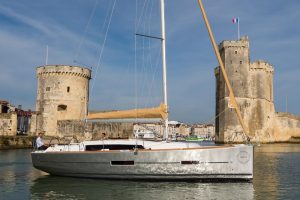 As well as making it much easier to reach to drop and stow the sail without having to climb the mast, this has also helped to increase sail area in the lower section of the mainsail.
The relatively powerful rig is balanced with a deeper rudder blade for easy of control and a 1.90m keel weighing 1850kg. There's the option for a shorter 1.6m keel too.
The Dufour's distinct yet discreet full chines length chines also add stability and reduce heeling motion, creating an overall nicely balanced and easy to handle boat, that has a turn of pace and yet no vices.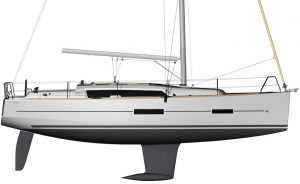 In addition to the primary Lewmar 40 winches and sail controls being placed in easy reach of the skipper, there is a full width mainsheet track positioned on the coach roof. Adjustable from either side, this enables complete control of the mainsail shape across all conditions, maintaining sail efficiency whilst losing power and dropping the traveller to leeward.
Consistent with other Grand Large designs, the 382GL has the option of removal helmsman's seats behind the wheel, two large stowage lockers for liferaft and tender, and a generous, full-width transom which lowers down to become the bathing platform. It has an integrated boarding ladder and also doubles and an easy landing platform for a tender.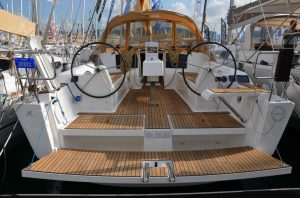 The fixed cockpit table end has space to site a GPS screen and the end of each cockpit coaming has space for GPS and other navigational instruments, all in easy view of the helm.
Dufour's research suggests their owners spend over 70% of their time above deck, so much attention has gone the cockpit to create a spacious, uncluttered, comfortable sailing area, as well as ample relaxation space when at anchor.
The cockpit seats are long and wide, so there's plenty of room for guests on board as well as sunbathing.
Below decks the instant impression is a light and spacious living area. This has been achieved through the coach roof construction.
The injection moulded, sandwich construction decks contain a PVC foam core. This creates significant deck strength and enables a sleek, flat coach roof on the outside that gives plenty of headroom down below and no separate headlining is needed to cover additional deck beams.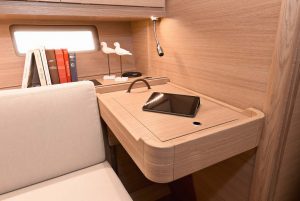 It also means deck fittings are easily accessible for maintenance purposes rather than having to pull out a headlining.
The low profile coach roof also enables Dufour to fit their distinctive, fixed coach roof windows as well as side windows and opening hatches, which fills the interior with natural light.
Interior layouts include either two or three double cabins with the option of an L-shaped or full length galley and one shower/heads. Or there is a two or three cabin layout with two shower/heads, which is a layout normally only found on boats over 40' rather than on a 36'.
The choice of layout gives flexibility for carrying different crew numbers and guests on board, planned lifestyle and cruising locations.
The layouts with larger relaxation below decks are likely to be most popular in mixed climates and when sailing in hotter regions owners may choose for the two heads option as they will spend the majority of time above decks.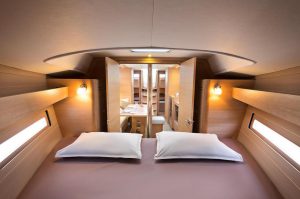 Either galley layout comes fitted with a King-sized 180 litre fridge with two drawers and is accessible from above and below.
Much thought has gone into how the space below is used when afloat and at anchor.
The table design fitted depends on the galley layout, and recognises that much of the time a full length table is not required, especially when underway.
Boats with a long galley are fitted with a 1m long table, which can be lengthened to 1.4m to accommodate up to eight guests.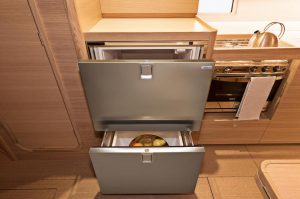 In keeping with Dufour's modular approach to interior design, a neatly concealed sliding stool extends one end of the sofa to provide table end seating.
Whilst the dual-purpose chart table can be dropped down to seat height, extending the sofa to create an L-shaped 'chaise-longue' end, adding more seating.
Full length it creates a 2.6m sofa, that can also be transformed to become an extra berth, and is of a size more commonly found on a 50' yacht.
There is ample storage below decks, above and below the sofa berths and cupboards within each cabin. Storage lockers are hinged from the base to prevent contents falling out and gas struts mean they open smoothly and do not slam shut on you.
There are deep storage shelves behind the galley so bottles and food containers will be safe, and likewise within the cabins. The storage shelves are ample and deep enough for welly boots and sailing gear, rather than just the normal shallow shelf for phone, suncream and sunnies found on many similar sized boats.

More Info (Click here)
382 GL Vital Statistics:
• Architect – Umberto Felci
• LOA – 11.25m
• Hull Length – 10.96m
• Waterline Length – 9.90m
• Max Beam – 3.85m
• Light Displacement – 7060kg
• Draft – 1.9 / 1.6m optional
• Keel Weight – 1850kg
• Fuel Tank Capacity – 200 ltr
• Water Tank Capacity – 380 ltr
• Engine Power – 30 cv (40 cv option)
• Sail Area – 58 m2
• Main Sail Area – 36m2
• Genoa Sail Area – 22m2
• I – 12.30m
• J – 3.30m
• P – 11.66m
• E – 4.35m
Construction:
Hull: Hand laminated polyester glass fibre; NPG gelcoat with first cloth layer impregnated with NGP resin to form the optimal barrier against osmosis.
Deck: Injection moulded sandwich construction with PVC foam core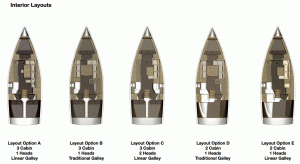 Contact Us (Click here)