Dufour Yachts – Dufour 350 Review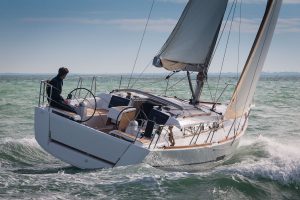 Dufour 350 Grand Large – deceptively spacious and behaves like a much larger boat. The Dufour 350 is an all-round family cruiser, is easy to handle and will give a comfortable ride.
Designed to look great, sail well, offer maximum space and comfort, the 350 seeks to be as practical and functional as possible borrowing features from its larger sisters in the Grand Large range.
Boasting a large sail surface area enabling remarkable top speeds. This 10m yacht offers a perfect balance between reliability, performance, easy handling and modernity, as well as maximising space, light and comfort below decks.
Designed for long-haul sailing with a self-tacking jib, the clean deck layout and open cockpit ensure perfect visibility and comfortable sailing.
Living below decks.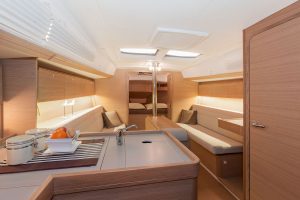 The generous proportions of the hull and full-length chines through to the transom creates a lot of room below decks, as well as providing stability and reducing heeling when sailing.
You have the choice of three double cabins to comfortably sleep six, or can opt for two cabins where a fifth person can sleep on the longer port bunk, plus a combined shower/heads.
Solid double doors open into the fore-cabin, and can be closed for complete privacy or pinned open to create an open plan feel to the interior.
As part of Dufour's modular approach to managing interior space, the three-cabin model comes fitted with a 'removable' chart table.In port, the chart table is lowered down and with the addition of cushions extends the starboard settee berth and salon area. Underway, the cushions are removed and the chart table slides up and neatly locks in position.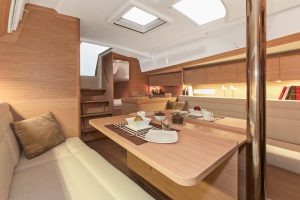 The interior of the Dufour 350 Grand Large is bright and light as result of the cabin roof hatches and windows.
Combining a lot of solid wood the interior finishes are available in attractive moabi, pale oak or teak.
In the saloon, the locker cupboards along the sides all hinge from the bottom on gas struts, so their contents stay put when you access them underway.
In addition to over headlights, low-level lights positioned around the galley, chart table and salon mean you are not working or reading in your own shadow.
An L-shaped galley contains a deceptively generous 120-litre fridge, two sinks and a three gas burner oven.
There is generous cupboard storage, a wine cellar below the floor and additional storage in the double folding table as well as below the settee berths.
Life on deck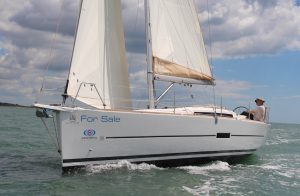 The 350GL has a sail a high aspect rig, 55m2 sail area, balanced by a 1.9m deep keel that weighs 1550kg. This, together with her elegant chines and deep single rudder, all contribute to her overall light handling and effective performance, even in light airs. She has a displacement ratio of 18.3 and her displacement/length ratio of just under 210.
The 350GL is fitted with twin wheels as standard and additional fold-down helmsman seats can be added to increase the choice of helming position.
With her broad stern, the helm has very good visibility when sitting behind the wheel, and even more when sitting outboard.
A key feature of the Dufour Grand large is the winch position, which sits just in front of the helm to help with short-handed sailing or simply not disturbing the guests relaxing in the cockpit when tacking.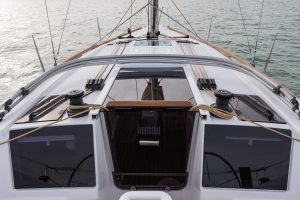 There are two Lewmar 40 primary winches fitting either side, which manage all the sail handling, keeping the cockpit and side deck layout very clean. The German-style mainsheet is led from the coach roof, through a clutch either side of the coaming and can be locked off when not being adjusted. This frees up the winches for the genoa sheets, which arrive via jamming blocks and can also be locked off after adjustment.
For even simpler handling the boat is fitted with a self-tacking jib track as standard, which allows a maximum size headsail too and there is the option for carrying a 108% overlapping genoa that runs via adjustable tracks on the side deck.
Coach roof clutter is reduced with the mainsheet on a simple bridle system, which also makes it easy to fit a sprayhood or bimini, depending which part of the world you are sailing in.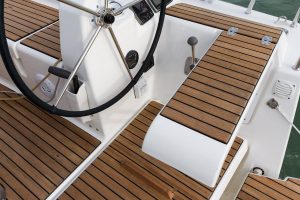 Mainsail shape and twist is controlled with mainsheet and vang tension.
The bow area is clean and open with a large anchor locker that incorporates a windlass and has space for fenders.
A Dolphin bowsprit allows a big anchor to be carried and fitted forwards and away from the vertical bow, which is much less likely to cause damage when pulling up the anchor in a breeze.
A Code Zero or A-sail can also be fitted and flown from the bowsprit. When not deployed it can stay furled in front of the headsail and does not have to be dropped.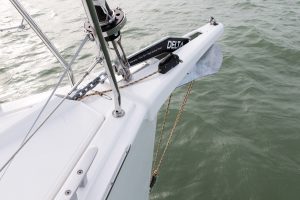 The Code 0 allows closer reaching and can be easily furled to gybe enabling safe manoeuvres.
Below the helm position are two separate lockers for tender and liferaft and on deck stowage is in either a full or half-depth starboard locker depending whether you opt for the two or three cabin layout.
The cockpit features generous seats, also ideal for sunbathing, and a double folding table with handy storage sections.
The back of the cockpit hinges down to create a very generous boarding and bathing platform with ladder, and the height is low enough to be easily accessed from a tender.
Dufour 350 Vital Statistics:
Architect – Umberto Felci
LOA – 9.67m
Hull Length – 9.35m
Waterline Length – 8.70m
Max Beam – 3.31m
Light Displacement – 4900kg
Draft – 1.9 / 1.6m optional
Keel Weight – 1330kg
Fuel Tank Capacity – 90 ltr
Water Tank Capacity – 160 ltr
Engine Power – 19 cv
Sail Area – 50.4 m2
Main Sail Area – 33.5m2
Genoa Sail Area – 16.8m2
I – 12.30m
J – 3.30m
P – 11.66m
E – 4.35m
Construction:
Hull: Hand laminated polyester glass fibre; NPG Gelcoat with first cloth layer impregnated with NGP resin to form the optimal barrier against osmosis.
Deck: Injection moulded sandwich construction with PVC foam core