The original concept behind the 310GL was to create a sophisticated, compact yacht with excellent performance, as well as integrate as much of the technology, iconic style and comfort that can be packed into her from the larger Grand Large models.
This fast, nippy 9.35m long yacht may be the smallest in Dufour's Grand Large range, yet she has bags of character and is easy to steer short-handed or even single-handed.
Unusually for a yacht this size, she comes with double steering wheels fitted as standard to give optimum visibility and comfortable steering position.
The boat is fitted twin rudders to maximise control and easy manoeuvring.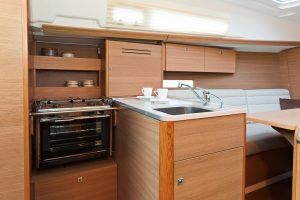 With a high aspect ratio sail plan and over 50m2 sail area contributing to her powerful performance, the Dufour 310 is balanced by 1330kgs keel weight and draws 1.9m.
There's an option for a ballasted centreboard, which draws 1.6m when fully deployed making it perfect for cruising coastal havens and getting into the best, sheltered anchorages. An integrated self-tacking headsail comes as standard to make short-handed or single-handed sailing very easy, and there is an option for a 108% overlapping genoa and adjustable jib tracks.
The rig is set up with swept-back spreaders, negating the need for a backstay and providing more space on deck when sailing and living on board.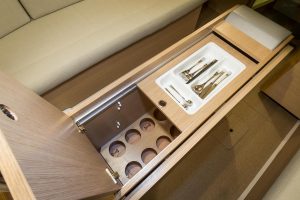 Overall the deck layout has been designed to be very clean and simple as well as maximise side deck space, making it easy to move fore and aft and around the boat.
As featured across the entire Grand Large range, the 310GL's boom height at the gooseneck is lowered to waist level, to help packing the sails easily and safely without the need to reach high up.
The side decks are noticeably wider than you might expect on a boat of this size and with the shrouds mounted outboard this allows easy and unrestricted movement around the boat.
There are good handholds around the coachroof and a deep wooden toe rail for extra support.
On the aft deck there is a generous locker for a life raft and a wide drop-down stern bathing platform.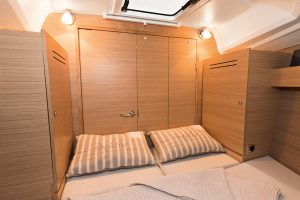 Below the starboard seats is a spacious, full depth locker, ideal for long-distance cruising and beach toys, and on the foredeck a big anchor locker to accommodate anchor, chain and fenders.
Below decks the sophisticated living space replicates one the signature features of all the Grand Large designs.
The injection moulded deck construction enables the positioning of roof light windows and aft cabin windows situated on the back of the coach roof, which flood the interior with natural light.
Contact Us (Click here)