Chartering for the First Time? Read About us in All at Sea!
We're in the April 2021 issue of All at Sea!
Chris Warwick, principal at Universal Yachting, on making your first charter – home or abroad – a success.
Thinking of a holiday this year – one to get you away from the crowds? Hiring a yacht, known as a charter, could be just the answer. If it is not something you have done before, as with any holiday, getting the balance right and keeping your whole group happy is important.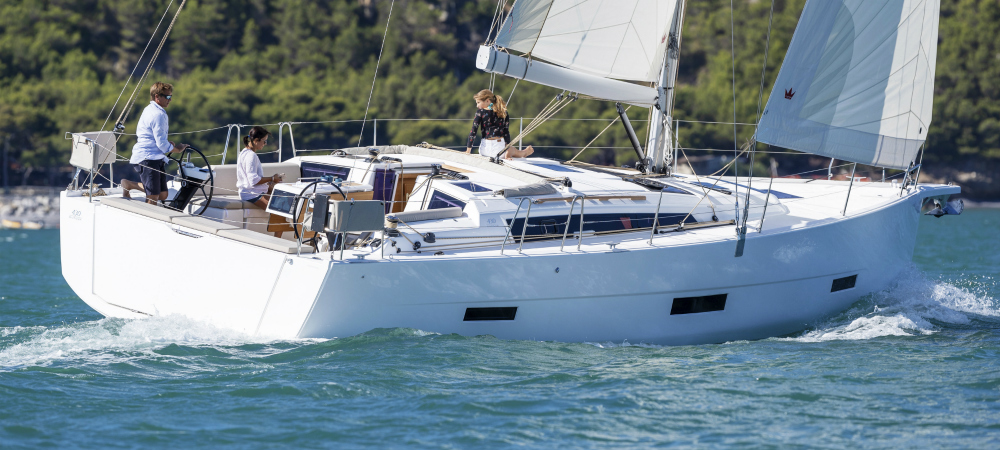 Talk it through
Whether you are a group of friends or a family, work out in advance what everyone wants from the experience. An element of compromise will always be essential and, if it is a family holiday, consider which items are negotiable with the younger members – democracy can have a cost!
This choice will, in part, depend on your level of experience and what you wish to do.
Skippered charter:

Similar to hiring a ski guide, skippered charters can be your golden ticket to some of the best and off-the-beaten-track areas. Options range from booking a cabin onboard and mixing in with others, similar to a room in a ski chalet, to booking a luxury yacht with a skipper/crew, relieving you of all sailing and even catering responsibilities. Get involved or just sit back and relax.

Flotilla sailing:

Sailing as part of a group with other yachts all heading to the same destinations, supervised by a lead boat, has appeal for experienced sailors as much as people wanting to try something new. Flotilla holidays have moved on from 'follow-the-leader' type of sailing and organised' socials, allowing much greater freedom to do your own thing. The opportunity to mix with other families and make new friends can be important with, say, teenage children. The technical support and area familiarisation provided by the lead boat can be very handy in peak season, especially when trying to find berths and restaurants. Originally something that started in the Mediterranean, there are now some UK flotilla breaks.

'Bareboat' charters:

Similar to hiring a campervan, you are provided with a fully equipped boat to use as your own and sail where you please, normally within a pre-defined sailing area and proof of sailing ability. Alternatively, you can create your own 'mini-flotilla' with a group of friends with a couple of bareboat charters. There is nothing better than the freedom of sailing on your own' yacht during the day and then

meeting up with friends in the evening.
Sailing Area
Whilst chartering is popular in the Mediterranean or Caribbean, do not forget the UK offers great sailing options, especially in these current times. You can take a quick weekend break or spend a week exploring the coastline, enjoying everything it has to offer, all on your doorstep.
Every sailing area will suit different groups, so decide whether you prefer:
Complete independence;

Avoiding the hustle and bustle of harbours and towns;

Eating on board in a remote bay vs lively harbourside restaurants;

Short or long day sailing;

Days off sailing to explore some of the local sights.
Weather considerations
Whilst no one can predict the weather, especially these days, every charter company will highlight which are low and high wind destinations. No wind can be as frustrating as too much, so always work around the person with the least sailing experience.
An experienced yacht will shrug off no wind and still have a good day, yet someone new to sailing could get put off by high winds. Be prepared to adapt, after all you would not expect a new skier to do a black run!
The right yacht
Budget will play its part, as will experience and the number of people in your group, with your choice of boat. Most yachts will normally sleep eight people, although some newer yachts above 45ft may boast additional cabins with a capacity for 10-12 people. Be wary of cramming more in to get the price per person down. Do not let the reality spoil your holiday and consider:
who sleeps where?

will your 6ft teenager fit into the single bunk bed?

who gets the master cabin if you are splitting costs equally?
Whilst you plan to spend most time outside, space can be important, especially off-season or where there are no weather guarantees. As a general rule, if a boat sleeps eight then six onboard will be comfortable.
Although older yachts are often cheaper, it does not have to mean that they are tired and worn out. However, build age into your expectations, especially if chartering privately online. Do not rely on 'brochure shots', and if booking with a larger charter company by phone, remember they may never have seen the actual yacht.
For most people, sailing is the easy part. However, anchoring a large yacht in an open bay is different to trying to manoeuvre in a crowded marina or harbour. Whilst it is tempting to go for the biggest yacht you can find, be realistic about your abilities. Why put yourself under unnecessary pressure?
The right company
You may prefer smaller, family-run companies with a more personal service, or a wider choice offered by larger companies. Either way, be clear about booking conditions and cancellation terms, especially in current times.
Travel, flights and transfers
Overseas travel can eat time out of your hard-earned holiday, as well as adding hassle or cost if flights are not part of the package. A holiday you can reach by car may be preferable.
Time of year
Sailing out of season has great appeal, often being quieter and lower cost. There is a risk the weather may be less reliable, so assess whether you are prepared to tolerate some cloud, rain or even storms.
Prior experience?
Getting some refresher training before your trip may make a big difference to your break, especially if you are a little rusty or taking inexperienced sailors with you.
If you are completely new to chartering, book a day with a skipper locally to see if everyone is going to enjoy your holiday idea before you commit to the booking.
Always check with your charter company what sailing qualifications and certificates are required before you go. Most countries in Europe, for example, require you to have the International Certificate of Competence as a minimum.