Booking A Yacht Charter – The Next Step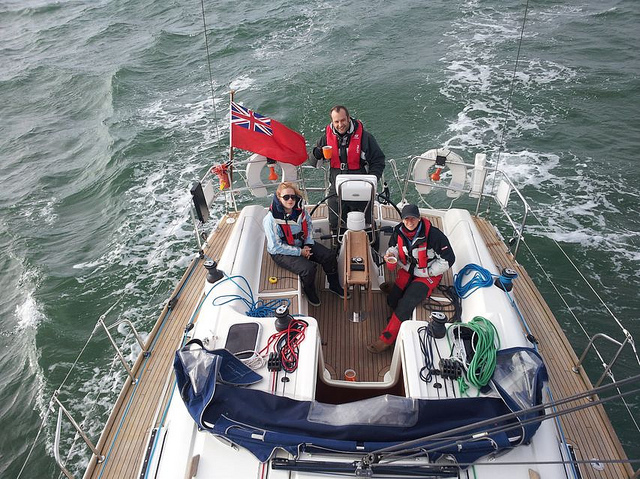 If you have booked a yacht charter, completed the necessary paperwork and paid your deposit. What Next ???
A successful yacht charter will require some degree of planning and preparation. Even if you have sailed for years, perhaps some of the people you are sailing with are new to the sport and may never have sailed before. They may be apprehensive and may well appreciate some information and advice to give them some idea of what to expect, where they will be going and amongst other things what they should bring.
As skipper you need to consider certain things such as your itinerary, a passage plan, victualling and certain areas of safety that need to be communicated with the crew.
In this article we will look at everything you will need to do and consider between booking your charter and when you turn up at the yacht base for your handover.
Planning your Itinerary
When planning your itinerary obviously much is dictated by the duration of your charter but no matter how long you are out for, be realistic!! Being over ambitious and trying to plan too much into your sailing trip will place unnecessary pressure on everyone and potentially spoil your trip.
Crew
Be sympathetic towards the make up and experience of your crew. You may enjoy sailing for 12 hours a day but not everyone does and certainly if you are sailing with children then balance the amount of time you spend on the water with other things that will keep them interested and hopefully wanting to come back and do it again.
Weather
Obviously this is a variable and you won't know what the weather is doing until a few days before your charter but during the planning stage lay out some options in case the weather is not favourable. Look at the time of year and if you are chartering out of season then naturally there is a greater chance of bad weather than if you are booking a yacht charter in the height of summer.
Time of year
Depending on the time of year you may have to plan your itinerary around other events that might be happening in the area. The Solent can get very busy and quite often large events will cause certain places to become no go areas. Round the Island Race in June, Cowes Week in August, America's Cup Challenge Weekend at Portsmouth in July are a couple of examples but in addition to the larger sailing events there are numerous other smaller events that may well leave you without a spot to berth for the night if you have not done your homework. You may find it useful to book a berth in advance especially in popular places like Yarmouth or Bucklers Hard on the Beaulieu River especially if you are sailing over a bank holiday weekend.
Also don't forget the number of daylight hours in a day, mid summer you can pretty much cross the channel in day light but in the middle of winter by 4 O'clock you will be turning your navigation lights on !!
Tides
Whether you are staying within the the Solent or planning a longer trip further afield then the tides can and will affect your sailing trip. At a simple level the tide will just lengthen or shorten the time it takes you to get from A to B. However there are certain places around the Solent that can only be accessed at certain states of the tide. Bembridge, Beaulieu, Newtown Creek are the most obvious examples.
Then you have the Needles Channel, if transiting down towards Poole or beyond then it is important to time your passage through this channel correctly.
Also when considering your plans you should factor in the capabilities of your yacht, some yachts can sail or motor at 7 knots and so tide is less important. However if your yacht can only do 3.5 knots then fighting a 3 knot spring tide up the River Hamble can make for a very long trip home.
Useful tools to assist in planning your itinerary
There are various online tide planners and almanacs. Use these to help work out what the tide is doing and where you can go.
Tide Planner App
Reeds Online Almanac
Weather, as well as the Met Office Weather Site, XC Weather is also a favourite and reliable source of weather information.
Passage Plan
Writing a good passage plan is not only good practice but also now a legal requirement for vessels proceeding to sea outside of categorised waters. MSN 1837 details categorised waters.
Don't be put off by this, a passage plan does not need to be complicated if you are just hopping around the Solent, but if you are planning a longer trip then rightly your plans will get more involved. But whether just out for a weekend or sailing across the channel everyone should write down passage plan which should be shared with the First Mate and explained to the rest of the crew.
A passage plan should outline your journey using the appropriate charts and nautical publications. You will need to take into account other shipping routes, navigation hazards, weather conditions, tidal predictions and other relevant factors including the competence of the crew. Through the natural process of writing out a passage plan you will think in detail about your trip both in terms of timings and also safety. Don't forget to include a few options if things change whilst you are out on the water.
In the event of an incident it is one of the first things that the MCA will ask any skipper for and so it is a good habit to get into.
Nominate a First Mate
Often overlooked but it is essential to nominate a First Mate and involve the rest of the crew in your plans and where appropriate share out some of the responsibilities. Not only will this take some of the load off your plate but it will also help everyone feel involved in the trip.
A good first mate is a safe member of hands to help with the general running of the yacht, someone you can rely on for a second opinion but also it is someone who can take over from the skipper in the event that he or she is incapacitated for any reason. The key thing is to ensure that the first mate is fully involved in the planning and decision making process for the trip, also when you come to taking over the yacht that he or she is fully briefed on the systems and operation of the yacht.
Victualling
This is a great task to delegate to a member of the crew. Be sure to ask everyone onboard their preferences and make sure no one has any allergies or dietary restrictions that you need to be aware of. Plan the catering carefully around the nature of your trip. You don't want to preparing a 3 course meal half way across the English Channel in a Force 6 or equally if you are going to eat ashore every night there is no need to over cater.
Nowadays most supermarkets will deliver straight to the marina so it can save a lot of time and hassle to do an online shop and have everything delivered ready for when you arrive.
Brief your crew on what to bring
This is especially important if some of your crew have never been sailing before. Don't expect them to know what to bring !!
Brief them on not only the type of clothes to wear but also the bags to bring them in. Space is limited so you don't want everyone to bring too much kit.
Think about all of the little things that will make their sailing trip more enjoyable as well as the obvious things such as a sleeping bag.
Insurance, certificates & other important detail
Whilst the yacht is insured you should advise everyone that this does not cover personal injury to those onboard. It is prudent to make everyone aware that they should check and if they feel it appropriate, take out a policy to cover them in the unlikely event that something unfortunate happens. Whilst making sure that everyone is aware that they are taking part in a activity which possesses an element of risk there is no reason to frighten everyone !! But as skipper you need to make sure that in the event of an accident your are not uneccessarily exposed or at risk of being held liable in the event of something unfortunate happening.
If you are sailing with a group of people who may be unknown to you, such as colleagues from work. Then it may be appropriate to get everyone to sign a simple disclaimer highlighting that they are taking part in the trip at their own risk. Whilst this does not absolve any responsibilities of the skipper to maintain high levels of safety it does help to raise the issue with everyone onboard the yacht.
Whilst on the subject of risk and injury. It is important that include the following aspects in your plans for the charter.
Identify from everyone onboard if there are any health issues you should be aware of.
Check if everyone onboard are confident swimmers
Brief the crew on matters of safety
Demonstrate how things work such as winches, ropes and clutches etc
As skipper or the person booking the charter it is likely that you have had to pay a refundable security deposit against any losses or damages to the yacht whilst on charter. Depending on who you are sailing with it may well be prudent to discuss what happens in the event any damage occurring. Say for example someone drops a winch handle over the side. Does the person at fault pay in full or do you share the cost amongst the crew, the same goes if you sail or drive into another vessel. It is preferable to discuss this sort of thing before rather than after the event.
Finally if you or your first mate hold any RYA Certificates then it is useful to bring these with you. The charter company may wish to sight the originals even if you have sent them copies.
Checklist of things not to forget
Here is our checklist of things not to forget in the run up to your yacht charter.
Plan your itinerary
Write a Passage Plan
Choose a First Mate
Check for any dietary requirements
Book any berths if possible
Look at the weather in the run up to your charter
Communicate with your crew your plan for the weekend
Advise everyone what to bring
Arrange victualling for the weekend
Enquire