Lying Mercury – Hamble
Fully commissioned and ready to go…… The Dufour 32 is an exciting, new modern sailing yacht that is designed for a great sailing experience. At 10.31m this sporty, performance yacht is easy to handle and has a new take on Dufour's distinctive design style, with ultra-modern lines and some great innovations both for saving space and adding to your fun on the water.
In contrast with many yachts of this size, the Dufour 32 comes with tiller steering rather than a wheel, giving you a much more direct connection and increased feel at the helm, as well as creating considerably more open space and extra room in the cockpit.
The transom is fitted with a removable, inflatable aft door. As well as being far lighter than the GRP equivalent, when at anchor this can be lowered down to open up the cockpit space as well as act as the bathing platform.
The cockpit table has been given additional purpose and has three alternative positions. Raise it up for alfresco dining, lower it down level with the cockpit seating to create a large sunbathing area, or remove it completely if you need the space whilst sailing.
---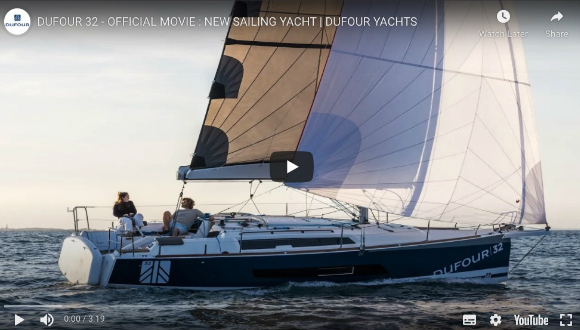 ---