Learn to Sail in 2 Days
YBW's editor Stef Bottinelli loves boats but after a couple of boating mishaps as a teenager she'd become a little nervous on water. Could Universal Yachting RYA Start Yachting course cure her of her fears and inject the fun back into sailing?
Whether you are completely new to sailing, want a refresher or would like to do the Competent Crew or the Day Skipper courses, the RYA Start Yachting course is the first step towards starting your sailing adventure.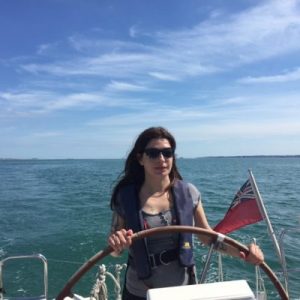 The course takes place over a weekend and teaches the basics of sailing. From learning the names of the various boat parts, rope work, learning the points of sail, steering a boat under sail or power, meteorology, rules of the road and man overboard recovery, to clothing and emergency equipment and precautions, all the basics are covered.
Pack the right gear
I set off to Mercury Marina in Hamble on a Friday afternoon, armed with my Gill compact sailing bag, packed full with all the gear I'd be needing on the boat. It's important to have the right kit and be prepared for all kinds of weather.
I take with me my faithful Musto Br1 Channel Jacket which is always brilliant at protecting from water and strong winds, a Musto Extreme Thermal Fleece for warmth and Musto Women's Evolution Performance UV trousers, which keep you dry and are also very comfortable to wear on a boat. I'm always a little nervous about falling overboard so I wear footwear with excellent grip, and two pairs go in the bag: Gill Competition Sailing Boots and Sperry Slip On Sneakers. Protection from the sun is hugely important too, so SPF30 sun screen, a hat and Gill Sienna Sunglasses are essential given that the weather forecast predicts a hot weekend on the Solent. Last but definitely not least, I take a sleeping bag to keep me warm for next two nights.
Meet your boat and crew
I'm the first to arrive at my home for the next two days: Splash, a Beneteau Oceanis 37.
RYA Sailing Course Solent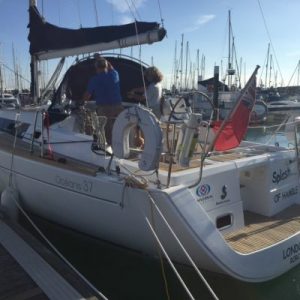 I immediately inspect the cabin, which I'll be sharing with one of my sailing companions. It's cosy, but I'm not here to sleep and it'll do very well for the weekend.
The Oceanis 37 cabin and the Gill bag packed with all the sailing essentials
The rest of the group arrives. It's five of us including Clive, our skipper.
We are all here for different reasons. Martin would like to learn the basics of yachting to potentially go on to do the RYA Competent Crew course and enjoy holidays afloat with his family.
Jane, who has some previous sailing experience, is here for a refresher ahead of taking part in one leg of the ARC race on a friend's yacht this November.
Steve already holds the RYA Day Skipper certificate, but he too wants a refresher before going on a flotilla holiday with his wife, daughter and friends. And then there's me: a lover of boats who, following a couple of minor sailing accidents as a teenager, has become a little scared of water.
Clive, our skipper, is warm and welcoming and immediately makes everybody feel at home. He briefs us on the do and don'ts of being on a yacht before we set off for dinner to get to know each other.
Let the sailing begin!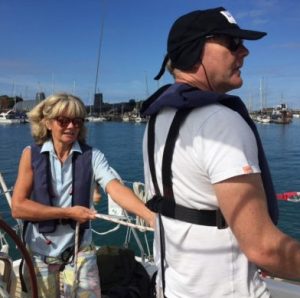 The weather is warm and sunny and on Saturday morning we gather for breakfast before our in-depth briefing. We are taught the safety rules first: how to use fire extinguishers and wear life jackets, what to do in case of an emergency and how to use a VHF marine radio.
It's then time to get acquainted with the rigging and sails.
It's a lot to take in, but Clive's motto is to learn by doing and soon we all know what he means when he talks about a jib, reefs and mainsail.
Mooring lines slipped, it's time to leave the marina and let the fun (and hard work!) commence.
Hoisting the mainsail and jib is no mean feat, but with a bit of teamwork, up they go, and away we sail.
Today is all about learning the points of sail, gybing, taking the helm mastering some basic rope work, mooring the boat to a pontoon, anchoring and using winches.
Being on a boat is all about working together. Everybody has a job and it's important not to be in each other's way.
Clive is incredibly patient and happily explains things over and over until we get them.
As we sail towards Gosport Marina, we see Sir Ben Ainslie and his team practising on the Land Rover BAR. We all get very excited, especially Jane and I, who snap away at the catamaran until we get a good picture.
I'm behind the helm, heading towards Gosport. It's a great feeling, but keeping the boat on course is not as easy as it looks. But we do get to our destination and it's now time to secure Splash to our berth, freshen up and go for a well-earned drink and spot of dinner.
It's only the end of our first day of sailing but I'm already feeling more confident, and I'm jumping on and off the moored boat without fear of falling into the water.
When you are sailing with a group you work, sleep and eat in very close proximity so it's no surprise that by Saturday night it feels like the five of us have known each other for a long time, and not just 24 hours. As we enjoy dinner at Gosport Marina, our skipper Clive regales us with tales of his time in the Navy and the fascinating, if a little terrifying, story of when he took part in the 1979 Fastnet race.
The feeling of achievement and camaraderie bring a wonderful day of sailing to an end. With one more day to go, it's time to get a good night's sleep, ready to tackle tomorrow.
Tacking and man overboard recovery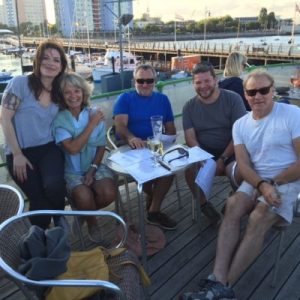 It's another beautiful sunny day and today we learn to tack. We are still getting a little confused when it comes to the points of sail, but practice makes perfect and soon enough we gain confidence.
Today we are also learning the man overboard recovery.
We may be 'saving' a fender, but the apprehension is still palpable. This is teamwork indeed and everybody has to be fast and alert. With the fender safely found and recovered, not once but twice, we congratulate ourselves on a job well done.
The wind is not on our side on Sunday, so we need some engine power to keep moving. Still it's a beautiful, hot, sunny day and we take in enchanting sites and kick back a little.
Alas all good things must come to and end and it's time to sail back to beautiful Mercury Marina in Hamble. The weekend has gone quickly. We are all proud of our team work and what we've learnt and achieved and a few of us are already thinking about signing up for the next course.
Whilst I still probably wouldn't sail single-handedly around the world, by the end of the two days I am much more confident on the water and sailing a yacht. I'm not quite sure I'm ARC material like Jane, but maybe a flotilla holiday like Steve or the Competent Crew course like Martin could be on the cards in the future. Watch this space!
The weekend course costs £350pp or £245pp for a shared cabin.
Click here for more information of Universal Yachting RYA Start Yachting course www.universalyachting.com/rya-start-yachting-course/
Learn to Sail in 2 Days – RYA Start Yachting Course with Universal Yachting & YBW