Solent Yacht Charter – Collective Spirit in Round the Island Race 2013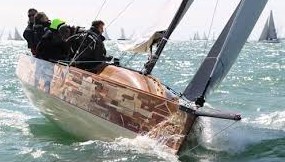 Tomorrow sees one of the most exciting days for Universal Yachting. We will be sailing the Rogers Olympiad 30, Collective Spirit (GBR7512L) in the J.P. Morgan Asset Management Round the Island Race. Collective Spirit has been in dock at Mercury Yacht Harbour in waiting for the competition, and we will be launching at 5.20am tomorrow morning!
Built to celebrate the London 2012 Cultural Olympiad, "Collective Spirit" is made up some 1200 pieces of donated wood including a fragment from the Mary Rose, a piece of Jimi Hendrix's guitar (in the tiller! ), a policeman's truncheon from the Victorian period and 2 hockey sticks, among many other items. The boat project is a living archive of people's stories and was built locally in Emsworth. The only criteria for donations was that they were wood, and had a personal story attached.
The 30 foot yacht was the creation of artists Gary Winters and Gregg Whelan, also known as Lone Twin, and Universal yachting are thrilled to be sailing her in the J.P. Morgan Asset Management Round the Island Race.
After the race Collective Spirit will be available for charter through Universal Yacht Charter.
If you want to keep tabs on the race then head over to the live blog on the official RTIR site.
Wish us luck!