…What Sailing Courses Can We Offer…
We are now able to offer a full range of RYA Sailing Courses and Skippered Charters whilst working within current guidelines for social distancing.
At the moment we can only offer Sailing Courses and RYA Training to a family group or household.
Whether you are looking for formal training or just a relaxed skippered charter around the Solent then contact us now to see how we can help.
Family Groups
Current guidelines mean that two households can meet up either indoors and outdoors.
With the instructor forming the second household this is perfect for a family team who want to improve their skills, learn how to sail a yacht and have a holiday at the same time.
Until the 2m (1m plus) social distancing ruling is relaxed it is just not possible to offer our courses to individuals unfortunately.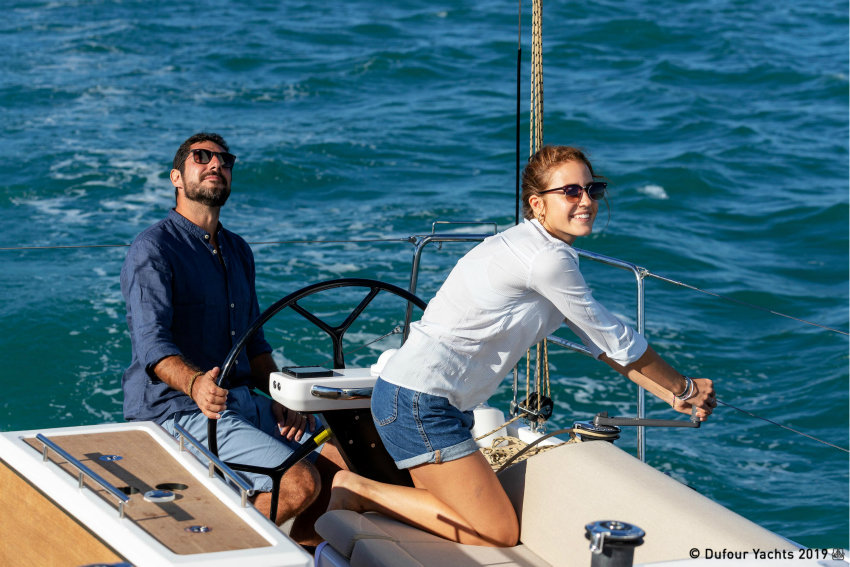 Dates
We are not setting fixed dates for any of our sailing courses so just call us to check availability and we can get you booked in.
Cost
We have fixed prices for each course regardless of numbers (Max 5 Students)
Please note that due to the restrictions currently in place you may wish to factor in accommodation ashore for our instructor. All other costs; berthing, fuel as well as all breakfasts and lunches are included. The only additional cost will be your evening meals which can be taken ashore or if you prefer you may cook onboard.
Flexibility
Given the courses are going to be offered only to family groups this means that we can offer much greater flexibility towards your specific training needs and can build a course around your requirements.

Additional Notes….
The RYA have relaxed the ruling for students to stay onboard the yacht each night for courses up to and including Day Skipper, so if you prefer you can go home each night for these courses.
The instructor will where practical keep 2m distance and of course you will be outside in the fresh air which will mitigate a lot of the risk.
When 2m distancing is not possible then facial coverings will be worn.
The instructor does not have to stay onboard overnight, so your family can enjoy the freedom of the yacht in the evenings.
We will provide ample hand sanitiser and cleaning products and with your help will promote regular hand washing and a high level of hygiene during your course with us.
Courses & Rates
| | |
| --- | --- |
| 2 Day Start Yachting (Weekend) | £1495 |
| 2 Day Start Yachting (Midweek) | £1275 |
| 5 Day RYA Courses *(Over a Weekend) | £2852 |
| 5 Day RYA Courses *(Midweek) | £2622 |
| 2 Day Mile Building (Weekend) | £1475 |
| 2 Day Mile Building (Midweek) | £1275 |
| 3 Day Flotilla Training/ICC (Weekend) | £1830 |
| 3 Day Flotilla Training/ICC (Midweek) | £1750 |
| 1 Day Boat Handling / Try Yachting (Weekend) | £1195 |
| 1 Day Boat Handling / Try Yachting (Midweek) | £660 |
Prices are for the whole yacht with a max of 5 persons.

If there is anything outside of our standard courses you would like to do then just let us know.
* Day Courses include ; Competent Crew, Day Skipper, Coastal Skipper, Yachtmaster Prep.
We are awaiting news on Examinations and how these can be conducted. The exam does not have to immediately follow your course and we will discuss and agree a separate charge for the use of the yacht depending on duration and timing of your exam.
Enquiry Form
What is included the price *
Yacht Hire & Safety Equipment
Instructional Skipper
Mooring Fees
Breakfasts & Lunches
Fuel
RYA Certificates
* Where appropriate for the type and duration of the course

The only thing we don't provide are the evening meals which can be taken ashore.
We can arrange for the instructor to sleep ashore for a small additional cost.
Our Yachts…
We have a total of 4 yachts available for general charter but typically on our sailing courses we use either our Dufour 365 or our Dufour 382.
Our yachts are all kept in superb condition in fact they are probably some of the best kept yachts you will find in use as training yachts.
They offer a similar accommodation layout and sleep 8 people in 3 double cabins and double berth conversion in the saloon.