Round the Island Race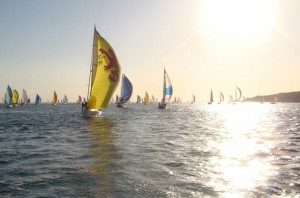 If you regularly do a UK yacht charter, then you may well have heard of the Round the Island Race! But if not, then read our five facts about the race to find out more about this popular annual sailing event.
The race is sponsored by JP Morgan Asset Management – and it's sailing's equivalent to the London Marathon! Traditionally around 1600 boats and some 16,000 sailors from all over the UK and Europe (and even the US!), from well known professional sailors, such as Sir Ben Ainslie, to keen amateur sailors.
It is organised by the Island Sailing Club and is a 50 nautical mile course around the Isle of Wight. The boats cross the famous Royal Yacht Squadron start line in Cowes, in separate groups every 10 minutes from 06.30. Then sailing westerly they head around The Needles, onto St Catherines Point and the Bembridge Ledge buoy and back into the Solent for the finish line in Cowes. This year it takes place on Saturday 21st June, the closing date for final entries is noon on Weds 18th June.
The original idea for the race came from member Major Cyril Windeler, of the Island Sailing Club, who suggested a handicap race around the Island which could then cater for smaller boats. The first race took place in 1931 and had 25 entries! It was won by Peter Brett who competed in a 22ft Cornish fishing boat called "Merry Conceit". The top trophy is the Gold Roman Bowl.
There are many great vantage points to view the race from both the Isle of Wight and the mainland, where you will get a terrific view – On the mainland there is Gilkicker point near Keyhaven or Hurst Point in Alverstoke Bay. Or on the island itself you could go to The Needles, Sconce Point, Chilton Chine, St Catherines Point or Ryde Pier. Even standing on Southsea beach, the spectacle of all those boats filling the Solent waters is quite something to behold!
It is a fantastic day and a brilliant opportunity to watch racing between world-renowned sailors, families and first time racers! Don't miss it!