Learn to Sail in the UK – What's the appeal?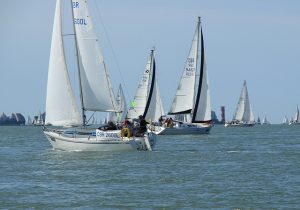 Why learn to sail?
Looking for a new sport, hobby or pastime?
Want something that the whole family can get involved in?
Bored of going on the same type of holiday?
Watched others having fun on the water and don't know where to begin?
Felt sailing is the preserve of the rich?
Read on and hopefully we will dispel some of the myths, encourage you to learn to sail and show you how to find out more about the sport.
Some common ways people describe sailing
Exhilarating Fun
Sense of Freedom
Exciting
Relaxing
Great for children's development
Adventure
Social
Active
Teamwork
Whilst everyone has their own personal take on what makes it so special. Most agree that sailing offers a great way to explore new places and provides a sense of freedom like little else.
With very few constraints there is nothing other than nature and your own abilities to stop you going where you please.
It can be both exhilarating and relaxing but above all else when you reach your destination or simply just come off the water after a day's sailing you will be buzzing from being active and having enjoyed the fresh air.
It's very expensive and the preserve of the rich !!
Sailing takes many forms and can be as expensive or as inexpensive as you want it to be, whilst you can spend millions you can also try sailing for free.
You may have the budget to purchase a yacht outright. But there are also shared ownership schemes and charter management programs that can all help to spread the cost.
If your budget does not stretch to buying a boat then you could join a sailing club and get involved with other members who already own a yacht.
Alternatively, there are numerous RYA Training Centres where you can learn to sail by taking a yachting course building on your knowledge as you work through the RYA's Sail Cruising Scheme. In addition to formal courses, most sailing schools run a program of racing and cruising weekends that you can join either as an individual or as a group. These mile building weekends are intended to be an informal way of building up your experience whilst still under the supervision of a qualified sailing instructor.
Once you have learnt to sail you could then charter a yacht either on a bareboat basis (where you take responsibility for the yacht) or if you are still learning you could hire a skipper.
There are also many sailing holiday firms abroad offering, Flotilla Holidays as well as Bareboat Charter.
What about age and fitness?
Sailing is certainly accessible to people of all ages and fitness levels, it is also fantastic for families who all get a great deal from being outdoors and the bonds developed from spending quality time away together.
Sailing is an activity that stimulates and encourages every aspect of a child's mind and sense of adventure and it certainly encourages them to leave their computer screens behind them.
How do you get started & other sources of information
As an island nation, the sea is all around us and nowhere in the UK is more than 75 miles from the sea.
There are plenty of opportunities to try sailing and numerous places to get involved whether you are looking to buy a yacht, take an RYA sailing course or hire a yacht through any number of yacht charter companies both in the UK and around the world.
The Solent is certainly one of the most popular places to sail, with its sheltered waters and numerous harbours as well as its easy access to the French Coast and various ports along the South Coast of England.
The Royal Yachting Association (RYA) is the national body for all forms of sailing, including dinghy and yacht racing as well as sail cruising.
Practical sailing courses are run through RYA Training Centres all of whom adhere to set standards and instruct courses to a laid out syllabus contained within the RYA Sail Cruising Scheme.
As a complete novice your starting point would be to join a Try Yachting day or a Start yachting weekend
These 1 or 2-day sailing courses will give you the opportunity to try sailing before moving onto more formal and longer training courses.
The next step would then be a 5 day Competent Crew or Day Skipper course where you will learn the principles of sailing and what is involved in taking charge of a sailing yacht.
The British Marine Federation also offers information about where you can find companies involved in yacht charter and sail training.
The biggest thing is not to be put off just because this may all be new and possibly a bit daunting. You will find everyone involved in the sport very welcoming and only too keen to encourage new people to have a go.
Contact us