DUFOUR – WORLD WIDE NAUTIC DAYS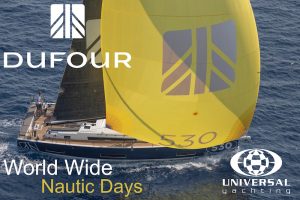 GET ON BOARD FOR AN EXCLUSIVE ONLINE EVENT
SATURDAY, DECEMBER 5TH
Because Sailing is a precious liberty at this time, Dufour is offering you the opportunity to discover
the new models and the shipyard through a unique, exclusive, international
and video conferencing event!​​​​​​​​​​​​​​
A great opportunity to stay in touch with our Team.

Discover the program
The shipyard is opening its doors for you "live"

Exclusively, visit the workshops and discover the Dufour 470 and the Dufour 61, two new models for 2021

Introducing two new trends aboard 2 iconic models: Dufour 360 and Dufour 390

Questions / Answers
Choose your session and return your registration to your dealer by CLICKING HERE.
You will receive a password for your exclusive connexion.
Session 1 – English Spoken
SYDNEY 6pm
HONG KONG 3pm
PHUKET 2pm
Session 2 – Italiano
GENOVA 10h
Session 3 – English Spoken
ATHENS 3pm
SOUTHAMPTON 1pm
Session 4 – Français
LA ROCHELLE 16h
Session 5 – English Spoken
LOS ANGELES 10am
NEW YORK/MIAMI 1pm
LIMA 1pm
SAVE THE DATE
SATURDAY, DECEMBER 5TH