Calling all speed demons! Power over Sail? Which side do you come down on?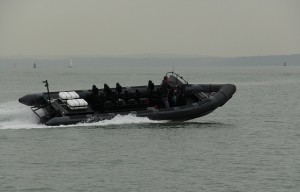 With this amazing weather we are having, how tempting is it to hire a RIB for a day and get out on the Solent for some pure fun? For those of us who may be sniffy about power over sail, it might seem not quite the done thing!
However with this amazing weather there are plenty of good reasons to hire a RIB for the day
Great for covering a large distance – easily pop over to the Isle of Wight for lunch and back in a day.
Can't spare any time? Well with a RIB, you can get a full day out on the water and feel like you've made the most of a great day at sea.
Brilliant for spectating at sailing events – you can get right in amongst the action (and out again at speed!)
Moving crews around or using as a chase boat.
Also brilliant for a small corporate events, as a lot of fun can be had at 40 knots! Or hire a RIB as part of a multi boat activity day, great for taking photos of everyone on board other boats.
Contact us at Universal and you could hire an almost 10ft Delta RIB, with a skipper and all the necessary safety equipment included, from £650…go on, what's not to love?